The Tree of Light
Raising Funds for local and Rotary Charities
The Rotary Club of Evesham's Tree of Light is a 90' high redwood tree which nestles on the north bank of the River Avon close to the centre of town. When lit with over 1000 lights, its prominent position allows it to be seen from many miles around.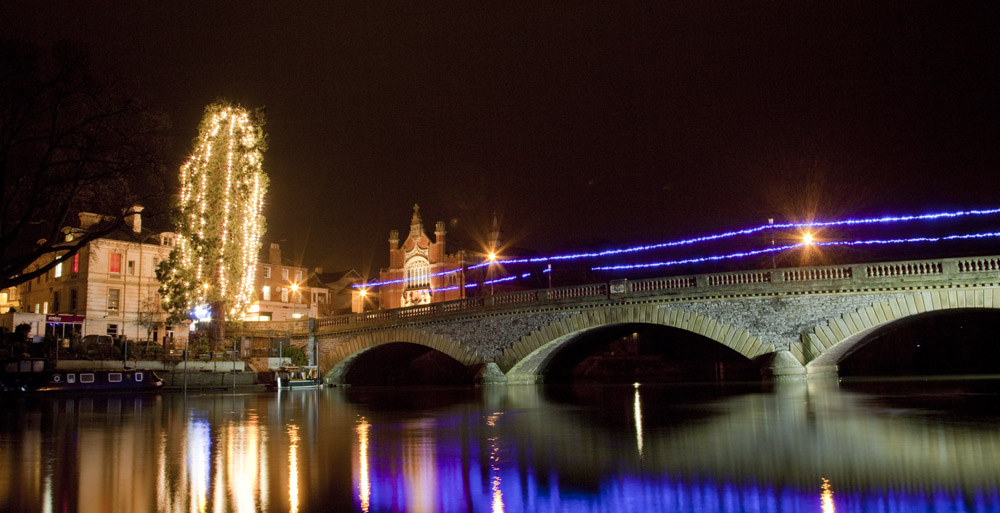 Photo by Perfect Image, Ian Tustin.
Remembering a loved one at Christmas
Christmas is a time for families, for remembering, for celebrating and for giving; it is at times such as this that the loss of a loved one can be most keenly felt. The name and the symbolism of our Rotary Tree of Light are reminders that there is light and hope in the bleakest circumstances. The Tree of Light allows sponsors to remember loved ones at Christmas time whilst at the same time raising funds for worthwhile causes which support others who are in need.
The Tree of Light Turning on Ceremony 2018
Workman Gardens, Thursday 6th December, 6.00 for 6.30pm
Join The Rotary Club of Evesham for mulled wine (non-alcoholic), mince pies and a selection of carols accompanied by The Prince Henry's Academy Choir.
2017 Sponsors
Businesses that have supported this year's Tree of Light are:

Jutexpo
​James Osborne Optometrists
Evesham Marina
Mission Recycling
Rooftop Housing Group
BHGS Ltd. Horticultural Suppliers
GLB Ltd.
Troughton Transport Ltd.
Eurofresh Evesham Ltd.
Jet Plant Hire Ltd.
Springhill Farm (Pershore) Ltd.
County Building Supplies (Evesham) Ltd.
Cotswold Provisions Ltd.
Reliance Worldwide Corporation (UK) Ltd.
Quality Solicitors Parkinson Wright
Hearle and Brown Ground Source Energy
R. Sinclair Transport
Avondale Self Storage
Graham Bawden Associates
Bradfords Carpets and Beds
Evenproducts
E.W. Huxley & Son
Clement Rabjohns Ltd
Atter McKenzie & Co
Archer Express Services
Care Check Ltd
Merstow Green Funeral Home