Charity of the Month
Charity of the Month, January 2021 - Garage Art Group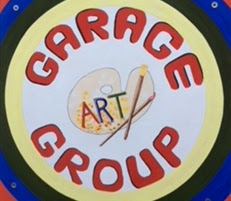 Garage Art Group was founded 30 years ago by a retired social worker, Brenda Staines, for adults with learning difficulties. Originally the Group met in her garage, but increasing demand led to larger premises, and today the registered charity meets in Crown Yard, off Bridge Street in Evesham. The effectiveness of community-based art-for-health in producing lasting improvements in quality of life is well documented, and the charity's own experience amply demonstrates the power of group creativity activity.
The Group aims to be inclusive and non-judgemental. The people who attend are adults of all ages and abilities, including those with learning and physical disabilities and a range of mental health needs. There are students who are complete beginners looking to learn, others who exhibit their artwork independently, and clients who come simply to enjoy art and create. There are currently 80 members, mainly from Evesham and surrounding villages. Students benefit in a number of ways from their time at Garage Art Group. Typically, they experience a sense of achievement, greater self-confidence, self-esteem and independence, reduced isolation, building friendships, mutual support and sharing in a safe environment - and, of course, learning new art skills.
Garage Art Group feels lucky to have Evesham's parks on the doorstep and groups often get out to draw and paint. They also work on community projects. These include art in the park for the local police, the Storystick project involving schools and local community groups, 'See Me' National Lottery art, a film and photography project, and murals for the Citizens Advice Bureau and Evesham Abbey Trust. The Group has exhibited its work at the Evesham Arts Centre, Worcester Cathedral, ImaGine Evesham, Evesham Library, Worcester County Hall, The Showell Gallery at Wychavon District Council offices in Pershore, Riverside Shopping Centre, Malvern Cube, and Waterside Day Hospital, where there is a rotating exhibition of the Group's work in the reception area, hallway and consulting rooms. There are also social and fundraising events for students and the wider community, like music events, skittles evenings, meals out, bingo and an annual World Mental Health Day event at Evesham Town Hall.
This vibrant organisation addresses an area that so often goes unrecognised in our society. Its approach has stood the test of time over 30 years, and the Group is looking forward to doing even more in the future. The need and ideas are there, but they require more space: two rooms of 1,000 square feet each = more students and a wider range of classes. All they need is the funding.
The Group receives referrals from local health services, including Waterside Day Hospital, and new students also get in touch via the website or directly with Pam White or Nicky Margetts at garageartgroup@live.co.uk