Charity of the Month

Rotary Club of Evesham Charity of the Month, April 2021: Evesham Vale Cardiac Rehab.
This month's charity has a number of familiar features. Once again, it started with an individual with a mission; once again, a clear need existed that was not being met by existing public provision; and once again, there were real challenges in getting something done. Gerry O'Donnell, a relative newcomer to Evesham, knew from personal experience the critical importance of supervised, regular exercise for people with heart problems or recovering from heart surgery. Heart disease is the major course of UK deaths, and especially prevalent in males. A community that lacked a local resource for people with heart problems was therefore a challenge that had to be addressed.
As chairman of the Evesham Market Town Partnership Committee, Gerry approached the Worcestershire Primary Care Trust and discussions led to an agreement that, if the Committee could find suitable premises, the Trust would supply the appropriate medical support. This was forthcoming from the Worcestershire Acute Trust, which supplied specialist staff to deliver Phase 3 rehab classes. Evesham Rowing Club stepped up and offered free space, and a pilot scheme was set up in May 2009. After a slow start, the classes got busy with a stream of discharged cardiac patients referred from the Worcestershire Acute Trust and some GP referrals. Demand for the initial programme of cardiac rehab (phase 3) was steady, but the next, more advanced phase 4 soon reached capacity and became too large for the Rowing Club space.
After further lobbying and much discussion, the facility was moved to Evesham Leisure Centre where there was space for larger groups. However, it would not be free, although the Centre offered discounted rates. Next step? Charitable status for Evesham Vale Cardiac Rehab, and fundraising – a very different challenge. The mission? Accessible, exercise-based rehab for survivors of heart attacks and those who have undergone heart surgery, enabling them to recover full fitness, regain confidence and return to a full life and role in society; also to promote cardiovascular health through exercise and healthy living.
More recently, the importance now attached to Cardiac Rehab was demonstrated by the decision to add more exercise space and machines at the Leisure Centre to accommodate the demand. To quote cardiac nurse Sally Blowing: "Evesham Cardiac Rehab has probably got the best rehab accommodation in Worcestershire, insofar as it is a dedicated, enclosed studio space, air-conditioned, spacious, has a good integrated sound system and a very pleasant Leisure Centre environment".
Evesham Vale Cardiac Rehab is now an established charity organising events to promote healthy living and raising money to cover its activities. People can find out more from trustee John Darby at:
johndarby@icloud.com
…………………………………………………………………………………………………
**********************************************************************
The Rotary Club of Evesham Charity of the Month, March 2021: Evesham Street Pastors.

This month's charity shows, once again, the rich variety of work that volunteers in our community undertake for others. Street Pastors started in London in 2003 with the aim of confronting urban problems on the streets in a Christian spirit of caring, listening and helping. The idea spread, and today there are 250 teams around the UK with 9,000 volunteers. Evesham Street Pastors is a registered charity run by and from the town's churches, and its work focuses on those weekend nights when the town centre is full of mainly young people out to enjoy themselves. On Friday or Saturday nights, and 'Super Sundays' before bank holidays, between 10.00 pm and around 3.00 am teams of trained volunteers are on the streets equipped with those things that experience has shown are most needed – water, flip-flops and……lollipops: water for dehydration, flip-flops for young women who so frequently lose their shoes and risk serious injury from broken glass, and lollipops, a potent symbol of goodwill and de-fuser of tension or conflict. Back at base, another team keeps vigil and prays for the work of patrolling colleagues.
The majority of people Street Pastors meet are new friends, generally younger and going through a period of their lives before responsibilities for family and jobs take over. The desire for fun brings with it inter-personal and other risks, often in combination, which some people are unable to deal with: too much to drink, the novelty of drugs, emotional upset in their lives, a personal falling-out, employment, or lack of employment, problems. Practical help where and when these risks are most apparent can be crucial. There are others who have longer-term challenges, where active listening is needed. It is one of the privileges of Street Pastors' work to share their stories, and sometimes, months or years later, to meet people who express their thanks for the help they received. The power of calm, non-judgmental listening from a stranger is the key to this aspect of Street Pastors' work. They are also able to direct people to relevant specialist advice and give cards, sponsored by Evesham Rotary Club, with contact details.
The town centre has been quiet during the Covid restrictions but the usual social problems still exist, aggravated by the effects of the pandemic. People's lives and businesses will continue to struggle for a long time. Evesham Street Pastors decided to continue to pray, weekly and on a rota basis, for the town and the people they would usually meet. They also continue to be available via telephone and email as a listening ear. Those who feel able still patrol on a limited and cautious basis, and this has been well received. Good Covid practices are followed. Instead of the usual hugs, promises of hugs in the future are given – there is a huge backlog of hugs to be cleared when hugs are OK again.
Funding for Evesham Street Pastors comes from churches in the area, personal and small group donors, the police, whose Police & Crime Commissioner is now the main funder through Wychavon District Council, Evesham Town Council and the John Martin Charity. There's more information on the website:
www.streetpastors.org/locations/evesham or e'mail: evesham@streetpastors.org.uk
************************************************************************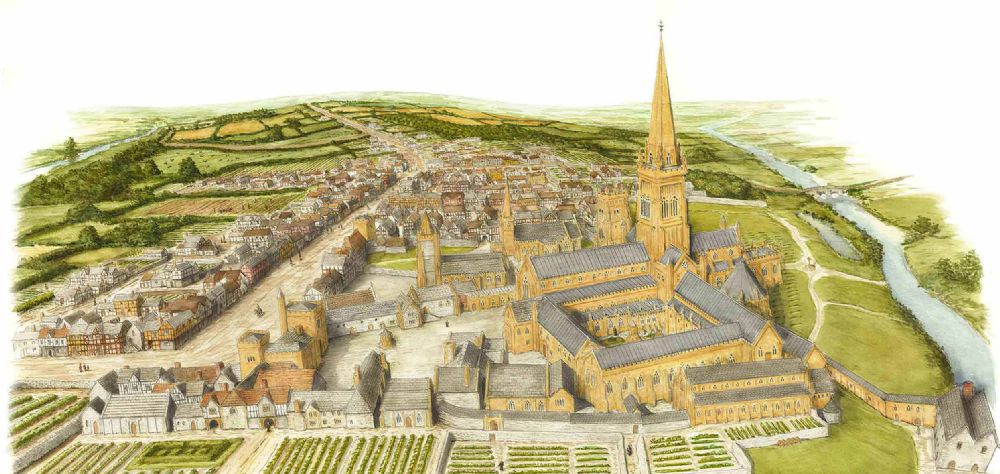 Charity of the Month, February 2021 - Evesham Abbey Trust
After 480 years there have been stirrings around the site of Evesham's long lost abbey. There has been, in the past, the odd bit of stone theft, some archaeological investigation and much speculation about what the whole complex must have looked like - the remains, magnificent though they are, cannot, by themselves, reflect the past magnificence of this 300 feet-high, working abbey. Tourists, like residents, have always been perplexed by the huge gap in Evesham's historical and architectural heritage. When Barrie Baldelli and Tony Haugh, hacking round the Vale golf course, were chatting about what should or could be done about it, they were probably dreaming. But now, after six years of hard work and many challenges, and with the Rudge family's extraordinary gift of crucial abbey precinct land, and with funding secured for the next three years, the Evesham Abbey Trust programme of investigation and conservation is up and running. Sponsors and funders include the Lottery Heritage Fund, Historic England, Wychavon DC and Evesham Town Council.
The Trustees' plans have many different aspects: funding, finances, conservation, project and technical investigations, archaeology, education, public engagement, volunteers – the list goes on. For now, the focus will be meeting local fund-raising targets, continued recruitment and training of the volunteer force and getting started on the major stages of work: extending the conservation work, and research and archaeology. Beyond that, with more funding required, will be the planning and delivery of a series of gardens based on the cloisters, nave and abbey grounds. It will be truly wonderful if, at that stage, the final funding can be secured to fill that great hole in Evesham's heritage with something that will attract and inspire future generations of locals and visitors.
Volunteers – and money - are always welcome, either for hands-on or clerical and administrative work. Get in touch with Barrie or his colleagues at www.eveshamabbey.org.uk