The Tree of Light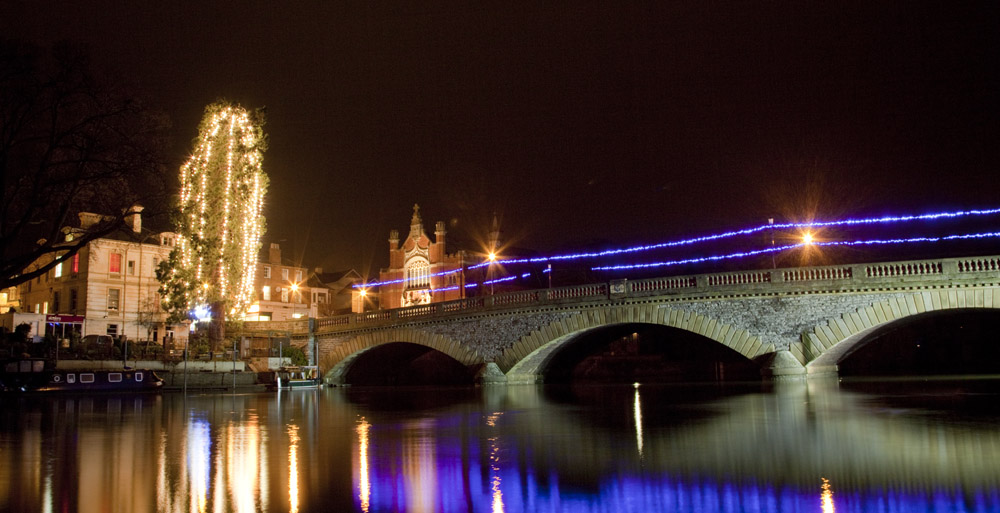 Photo by Perfect Image, Ian Tustin

Remembering your loved ones at Christmas

Christmas is a time for families, for remembering, for celebrating and for giving; it is at times such as this that the loss of a loved one can be most keenly felt.
The name and the symbolism of our Rotary Tree of Light are reminders that there is light and hope in the bleakest circumstances. The Tree of Light allows sponsors to remember loved ones at Christmas time whilst at the same time raising funds for charities and worthwhile causes which support others who are in need.
Everyone that chooses to donate receives a personal thank you card from the Tree of Light. All names of those remembered are published in the Evesham Journal and the Tree of Light Book of Remembrance, which is displayed annually in the Town Library.
We also list them on this website.
Raising Funds for local and Rotary Charities

The Evesham Rotary's Tree of Light was launched in 1999 and provides the opportunity for local residents to remember a loved one at Christmas, whilst raising funds for local charities and good causes.
The tree itself is a 90' high redwood tree which nestles on the north bank of the River Avon close to the centre of town. When lit with over 1000 lights, its prominent position allows it to be seen from many miles around.
Having marked over 20 successful years of the campaign at the close of 2019, the Evesham Tree of Light Appeal successfully donates around £15,000 a year back to the community.

Tree of Lights: Lights Down
After a very successful fund-raising campaign, the lights were switched off on Twelfth Night and taken down for storage till next year.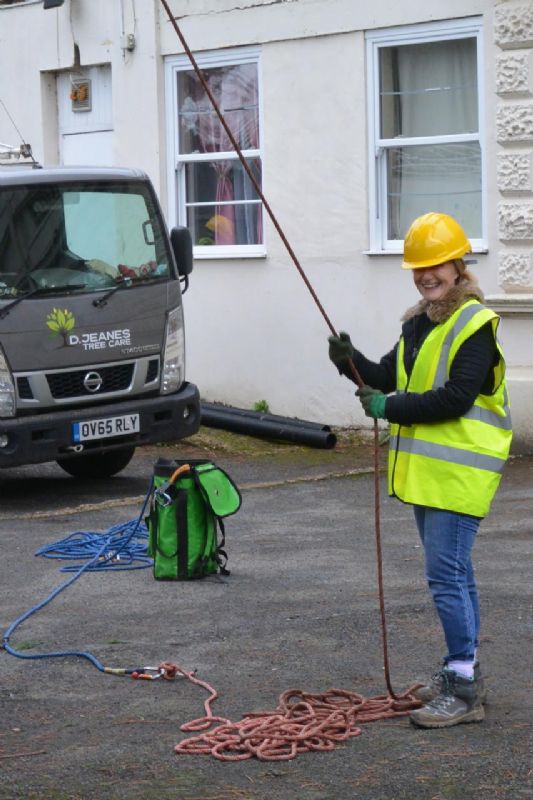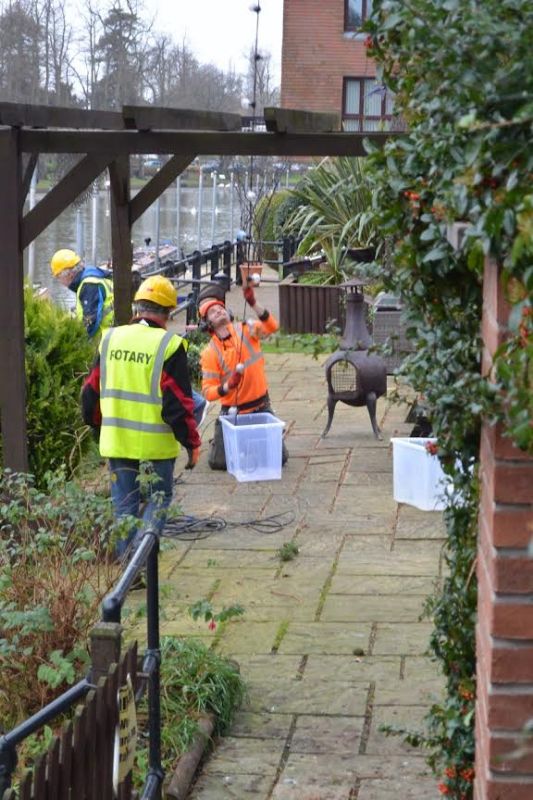 Tree of Light 2021 Preparations and Switch-On
This year's event had many familiar features - MC Patrick Staines ably conducted us through the blessing by Bishop Robert Paterson, the welcome by President Pamela, a brief address from District Governor Graham Ogden, and thanks and a count-down to the switch-on from Mayor Sue Amor. Mince pies and punch were on offer, and carols were led by Sandy Capaldi with music from the Bretforton Silver Band.
The big difference from previous years was that Wychavon District Council kindly agreed to arrange for Workman Bridge to be closed, as the ceremony was held in the forecourt of the Methodist Church, due to building work on Workman Gardens. The extra space on the bridge allowed more than three hundred spectators to enjoy the proceedings.
We test the lights before they go up on the tree, and then a team of tree surgeons and Rotarians work together to make sure the lights are safely installed at regular intervals around the tree.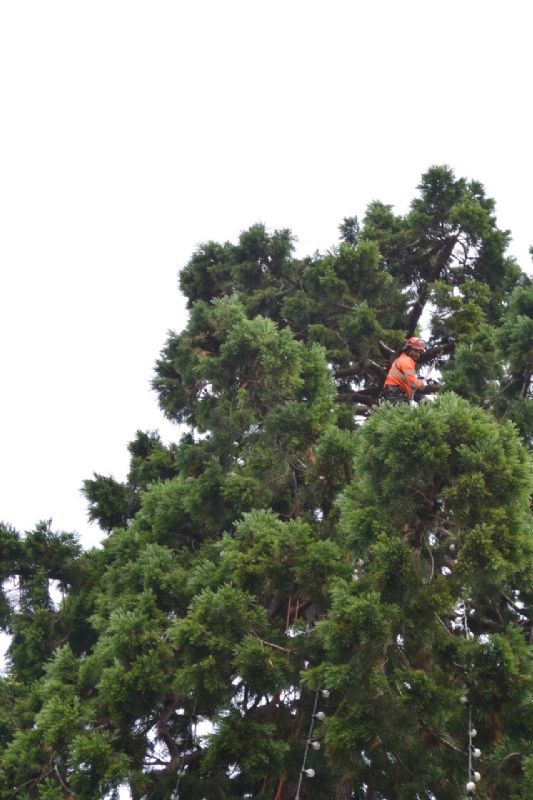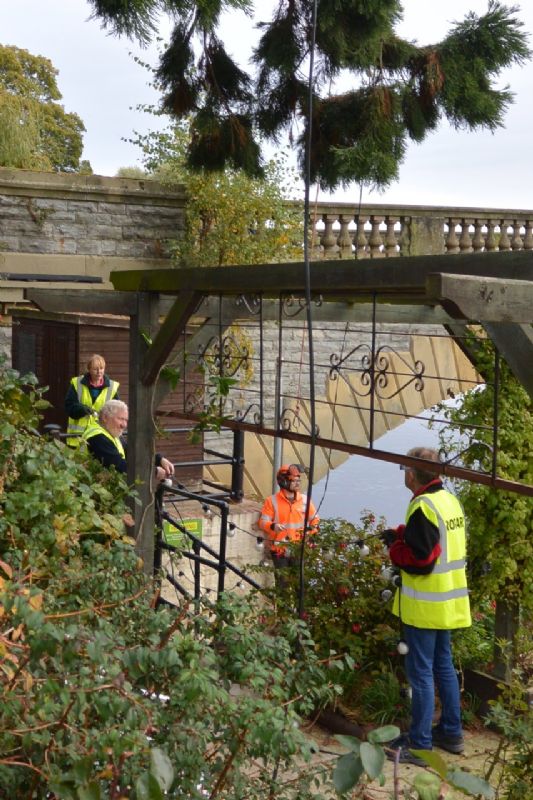 Tree of Light 2021 - List of loved ones being remembered
Rotary Club Tree of Light - missing names and acknowledgements
We are sorry that the following remembered names were missing from the list originally published.
David Attwood, Wilfred Mick Beasley, Bob Bridges, Len Briffett, Pauline Marie Brotherton, Joan and Cecil Clements, Gerald Colling, Roger Davies, Doreen Patricia Grosvenor, Joseph Guise, Kathleen Guise, Colin Heath, Eva Jelfs, Graham Lewis Jelfs, Philip Melvin Jelfs, Lilly, Jane Manning, Robert Bob Rigg, Marjorie Marj Rigg, Gladys Simms, Caleb Stone, Josh Stone, Francis Walker, Ian Walker, Victor White, Paul Whitehouse, Nils Wilkes.
We are grateful also to the following organisations who supported us by the provision of services.
Prince Henry's High School, Evesham Methodist Church, Simply Stone, James Osborne Optometrists, Cheltenham Road Post Office, Badsey Post Office, Paul Bille, Spacestream, Ford Electrical, Travis Perkins, Tesco, Cotswold First Aid, Evesham Town Council, Wychavon District Council.
The Rotary Club of Evesham are grateful for the support of so many for the 2021 Tree of Light. Donations will be made to many local charities during the next few weeks.
2021 Sponsors
Businesses that have supported this year's Tree of Light:
The Accountancy Office Ltd
Amcor Flexibles Ltd (UK)
The Bathroom Studio Evesham Ltd
BHGS Ltd
Bradfords Carpets and Beds Ltd
Care Check Ltd
Cotswold Provisions Ltd
County Building Supplies Evesham Ltd
Jet Plant Hire Ltd
Leggett & James
Reeds Rains
Rooftop Housing Group
StirrUps
Troughton Transport Ltd
Walsh Mushrooms UC
Zimprint Evesham
**********************************************************************

Our Charity Partners

Click on " charities" to see details of our charity partners:

| | | |
| --- | --- | --- |
| | | |
| | | |
| | | |
| | | |
| | | |