Club News
Congratulations to all concerned!
Happy 90th Birthday, John!
Rotarian John Mansfield recently celebrated his 90th birthday. We would normally have had a riotous celebration, but at the moment only a few of us, carefully socially distanced, were able to assemble on the lawn outside his dwelling to toast him. As you see from the photo, this was very well received!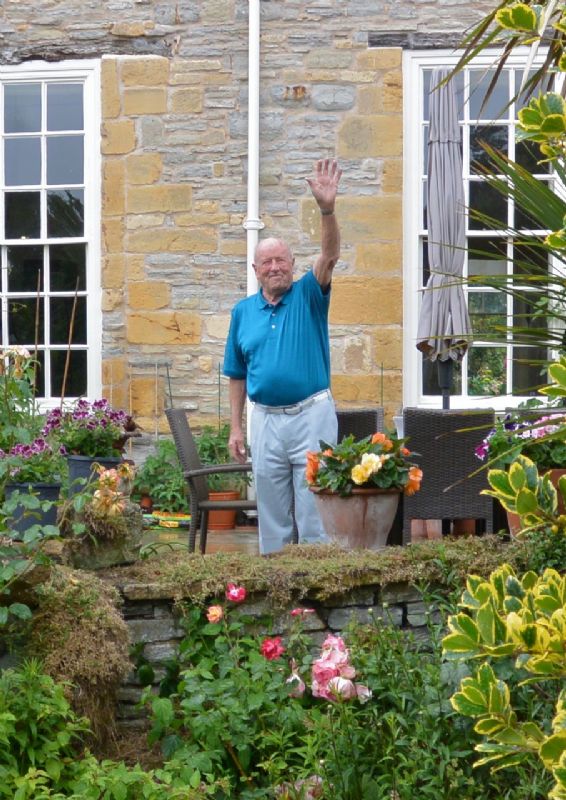 ***********************************************************************
It's nice to know our elected representatives acknowledge and appreciate the good work we have all been involved with at this time of crisis!
Nigel Huddleston MP
Member of Parliament for Mid Worcestershire
HOUSE OF COMMONS LONDON SW1A 0AA
Dear Rotary Club of Evesham
It has been brought to my attention the absolutely wonderful work that you have been undertaking on behalf of the local community in this time of the coronavirus crisis, including making laundry bags, headbands, face mask extenders and helpful items for people with dementia. I know that you have made and delivered an extraordinary number of items, all designed to make people more comfortable and feel safer, and your team of volunteers have worked so very hard in such a short space of time.
Could you please pass on my sincere congratulations and appreciation to all of those involved. It is acts like these which make our community what it is – and volunteers with the Rotary Club of Evesham are amongst the very best of what makes a wonderful community and society. I know you will continue to keep up the good work in good times and in bad, and I offer you all my deepest thanks.
Once this awful crisis is over, if you would care to invite me to come and visit you at the Rotary Club, I would very much enjoy the opportunity to meet some of the volunteers and have the chance to thank them in person.
With very kind regards,
2nd June 2020
Tel: 020 7219 5814
nigel.huddleston.mp@parliament.uk
Great community achievement
Letter of thanks to volunteers who took part
PPE and other items produced for Evesham Care Home workers
and Domestic Care workers
Dear All
We are astounded by your achievements! In less than four weeks, since we first came together as a community team to produce PPE items for Evesham's Care workers, you have produced some 831 items, 794 of which have been delivered to the Care Workers we wanted to acknowledge. In doing this, you achieved the target of providing each one of them with whatever they had requested – laundry bags/headbands/extenders – and even added a few 'Fiddler Muffs' for people living with dementia. Well done indeed!
Here below is a table showing a breakdown of what was achieved during May;
Laundry bags 270
Headbands 406
Mask extenders 110
Fiddler Muffs 14
Reserve - 9 laundry bags and 28 headbands
Grand total of items delivered = 800
Grand total of items produced = 837
We have received many emails expressing grateful thanks from the recipients together with a few photos. We are in the process of posting them on the website and Facebook page of the Rotary Club of Evesham for everyone to see. We think you also all know that the Evesham Journal included an article in last week's edition. Please let me know if you would like your own copies of any of these and we will email them to you.
From Rotary's point of view, we think we can draw this project to a close now. We want to thank everyone once more for all your efforts and would ask that you pass on the spirit of this letter to any friends in your circle who have contributed to this result. Please do not hesitate to contact us in future if you think our Rotary Clubs can help in any way with community or charity issues in our area.
Best wishes
Trevor
Trevor Battersby
President Elect; 2020-2021
Rotary Club of Evesham
rotary.trevby@gmail.com
Great community spirit
More good news and an example of how people are pulling together to help our NHS and Care Worker 'Heroes' during this Covid-19 emergency!
Volunteers from several outlying villages, including Fladbury, Cropthorne, Lenchwick, Dumbleton, Charlton and Lower Moor as well as from Evesham Town itself, Evesham Rotary and Rotary in the Vale came together over the past few weeks to produce a range of items of PPE for donation to our local health services. Following on from donations to hospitals in Worcester, Redditch and Droitwich attention turned to recognising our own local Care Home Workers.
Nearly 400 Care Workers in 8 homes in and around the town were identified. To start off with they all received small gifts in recognition of their hard work of chocolates and hand lotion donated by the Rotary Club of Evesham.
'Who doesn't need chocolates and hand lotion at the moment? Bring on expanding waistlines and softer hands!", said the staff at Briarlee Care Home!
Following on from this, a team of volunteer sew-ers from the villages produced hundreds of laundry bags, headbands, face mask extenders and 'fiddler muffs' that were delivered to each of the Care Homes.
Over 500 items were delivered! - laundry bags, headbands, face-mask extenders and fiddler muffs
Evesham Rotary President Elect, Trevor Battersby said, "We have been delighted to co-ordinate this effort, which has achieved a magnificent result in a very short space of time. Our Club was also pleased to provide financial support to De Montfort surgery to help them prepare for the emergency and continue to offer whatever help we can to the Foodbank operated by Caring Hands in the Vale. These initiatives are exactly what Rotary Clubs across the country are about and we are proud to support our local communities here in Evesham and The Vale."