Jan's Year as DG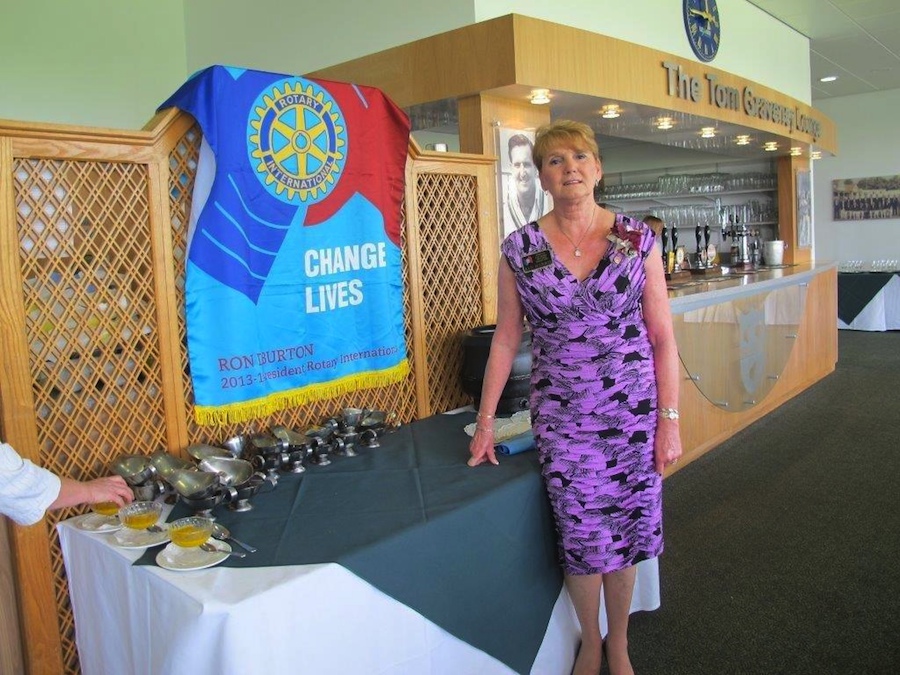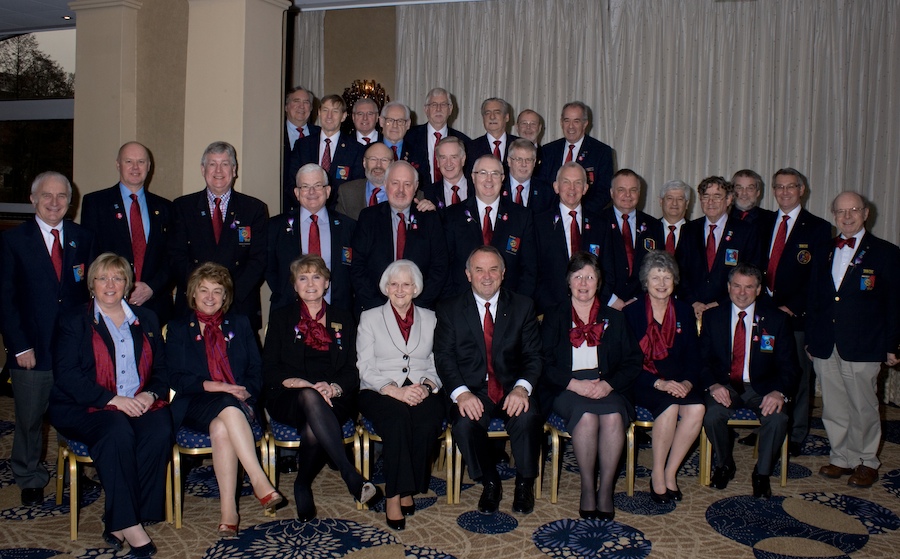 Jan Harris, Past President of the Club, is District Governor (DG) for our District (1100) for 2013/14. As a Club we are obviously delighted for, and very proud of Jan. She is the first lady DG for our District and joined 28 other new DGs within RIBI who started their year in office at the beginning of July. The photo above shows Jan with RI President Ron Burton and his wife Jetta, RIBI President Nan McCreadie and the other RIBI Governors.
Jan's handover took place at Worcestershire County Cricket ground at New Road on 30th June 2013 when representatives from the District's Clubs attended to welcome her into her new post and to hear Jan's plans for the coming year.
Follow Jan's journey over the coming year as she visits all 69 clubs in the District, and as she prepares for her District Conference in Bournemouth next March.
Jan's Club visits
Jan will be visiting all 69 Clubs in D1100 during her year. We will try to include as many of these trips as possible on this page. Do you have any photos that you can send us following a visit from Jan? Send them to us and we'll include them in the gallery.
---
Now this was an interesting visit! Jan met the members of D1100's e-Club on the 16th November.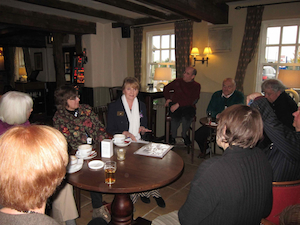 ---
Jan's next trip was on the 10th November when she visited the Gloucester disabled sports. Another inspirational visit. There were some very courageous competitors here!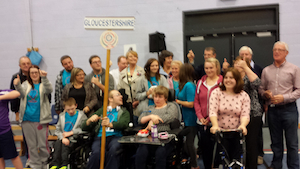 ---
On the 7th November Jan was present when Rota Kids made their pledges in Marlborough. What an inspiring sight!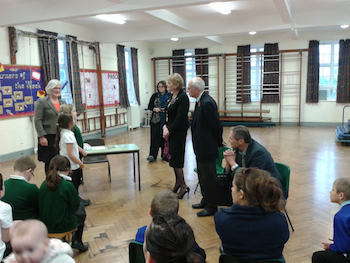 ---
Jan has continued with her visits to clubs in the District, and she has almost completed the full set!
She is shown below with Anne Wilson from the RC of Cheltenham Sunrise, Lynn Withy from the RC of Swindon Thamesdown, and Richard Walton - the Professor! - President of the RC of Bredon Hill.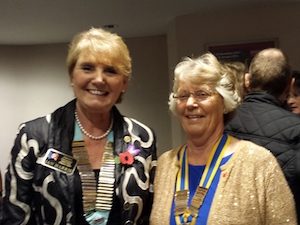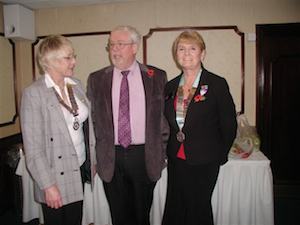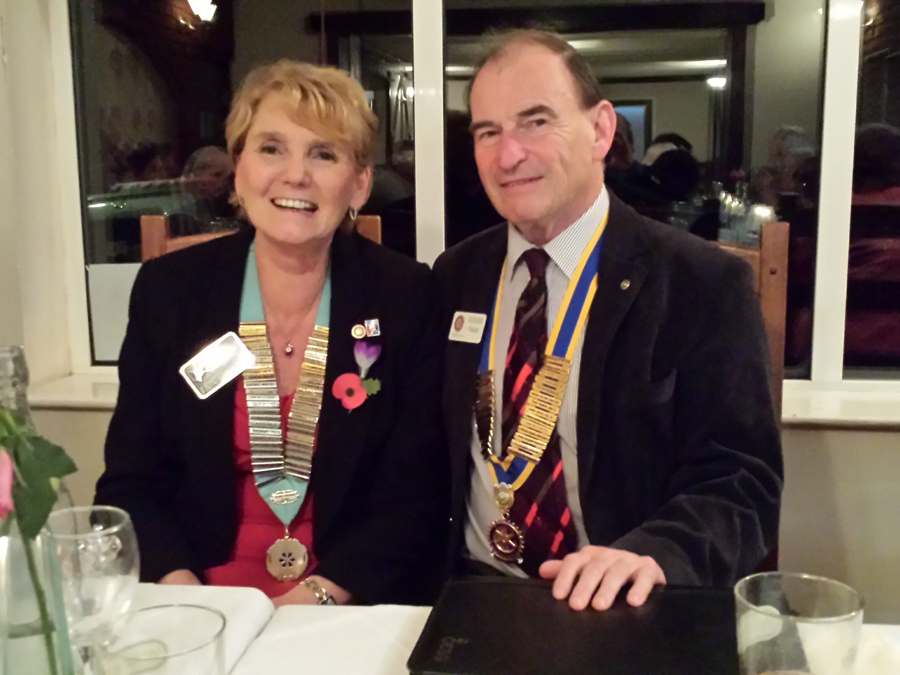 ---
Jan joined a number of Rotarians who took part in the Worcester 'Flash Freeze'. This was one of a number of similar events that took place across the country to promote the 'End polio Now'cam. A video can be seen in our 'Club News' section or by following this link - 'Flash Freeze'.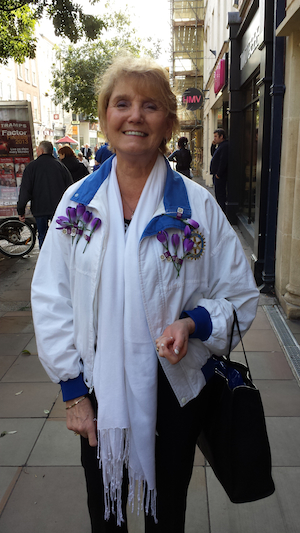 ---
Jan continued with her many Club visits during October and she is pictured below with some of the Presidents who have hosted her. On the left is Colin Mattock, President of the RC of Cirencester and on the right is Ian Thompson, President of Cheltenham and past RIBI President. Below them is Phil Randell, President of North Cotswolds and Richard Goddard, President of the RC of Stonehouse. The bottom photo shows Richard and the children who preformed in St Edward's Church in Stow on the Wold in their youth and music concert.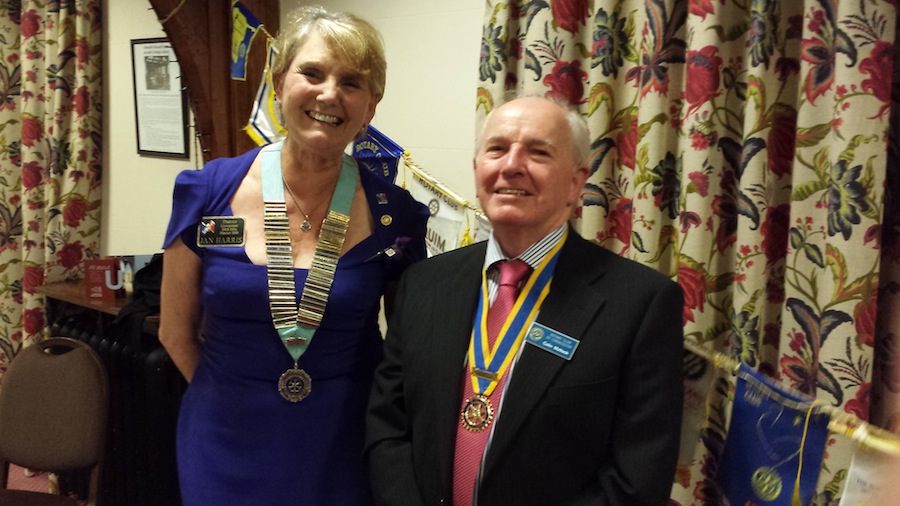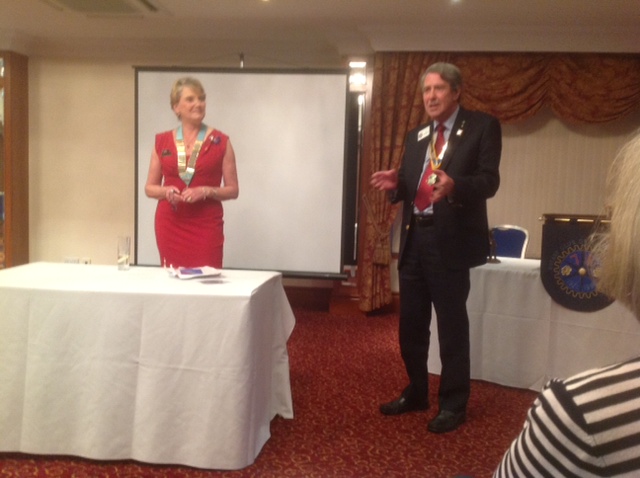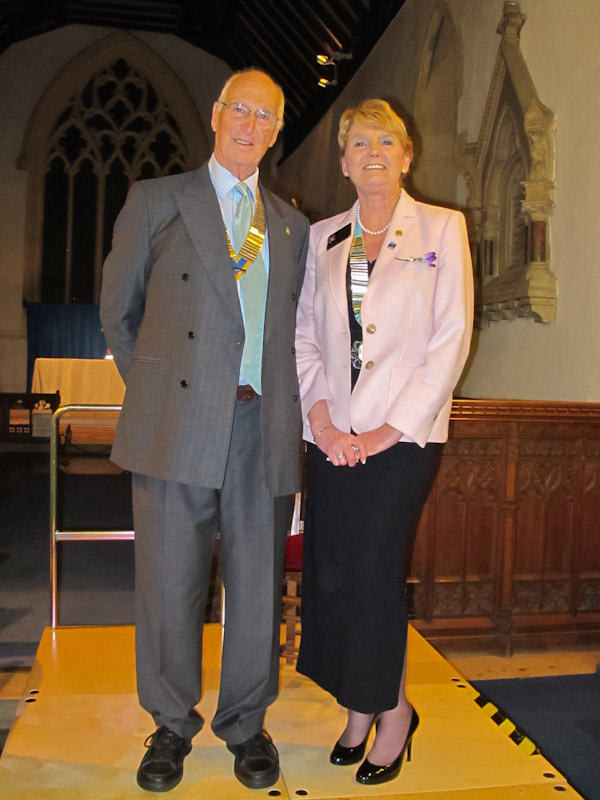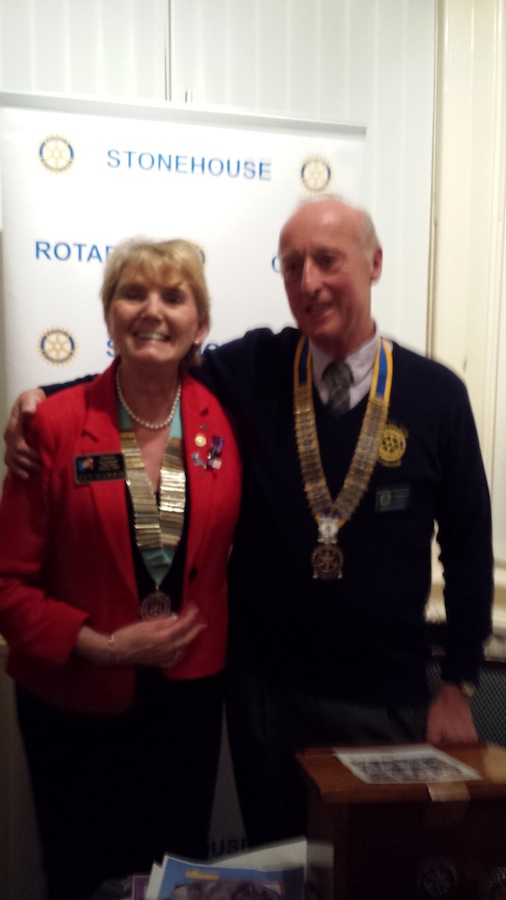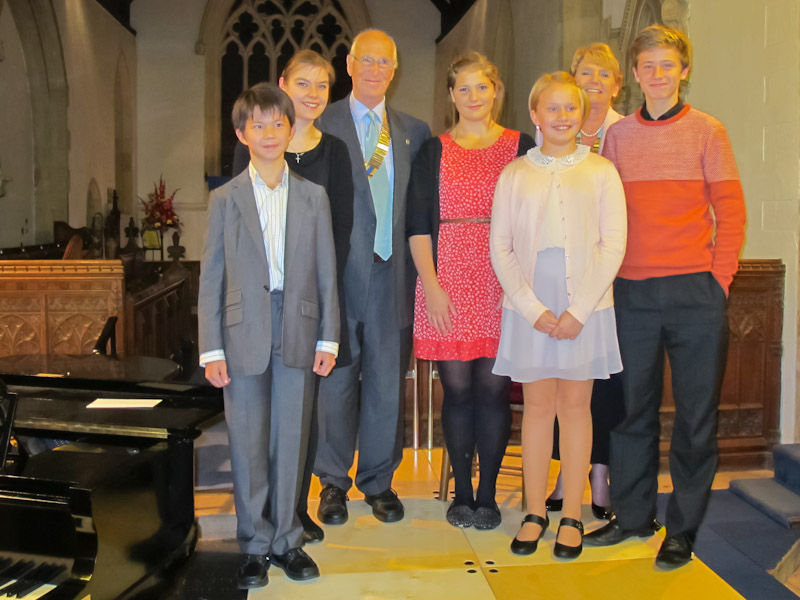 ---
Jan was delighted to be able to open the Young Musician competition in Bristol. She is pictured below opening the competition and then with The Lord Mayor of Bristol, the President of the RC of Bristol Ron Stagg, and the finalists.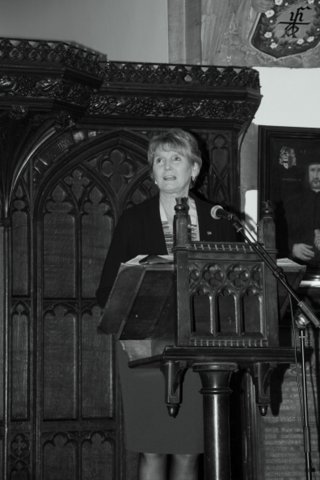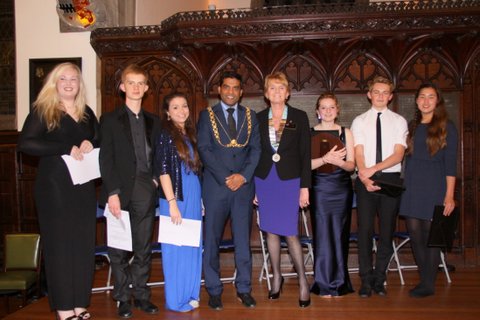 ---
On the 21st September Jan joined the presidents from the five Cheltenham Clubs in Montpelier Gardens where they laid their mile of coins. This raised an amazing £14000 for End Polio. She is shown with Dan Bacon President of the RC of Cheltenham Sparks (I don't know who is enjoying the cuddle more) and then in the other photo with Dan again; Anne Wilson President of the RC of Cheltenham Sunrise; Gill Rouse President of the RC of Cheltenham North; Frank Powell President of the RC of Cleeve Vale and Ian Thompson President of the RC of Cheltenham.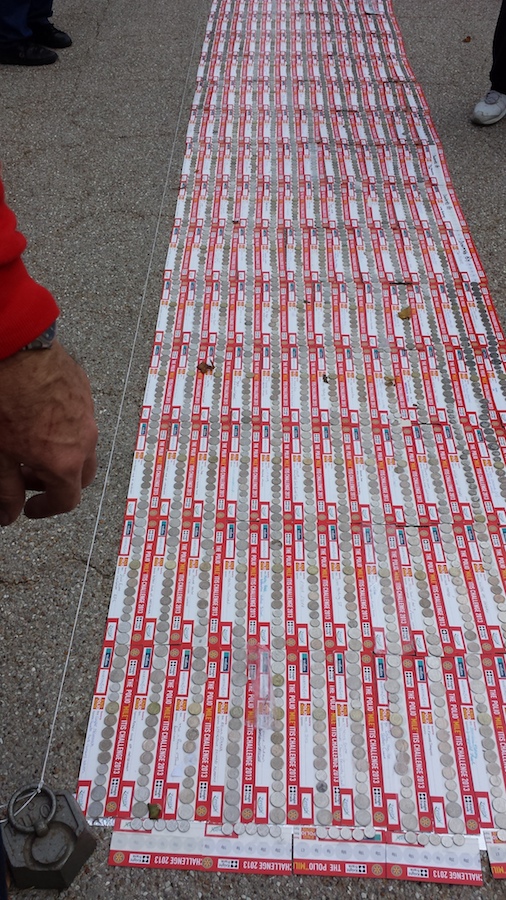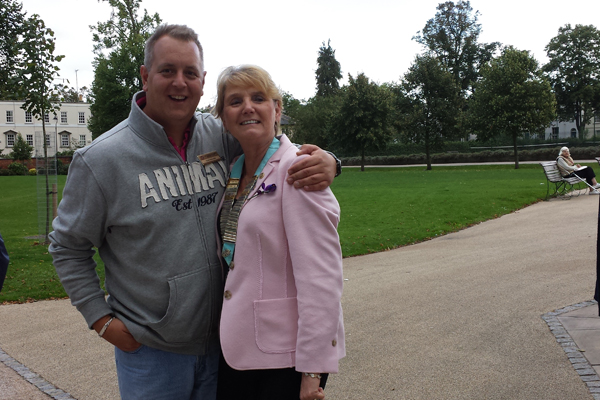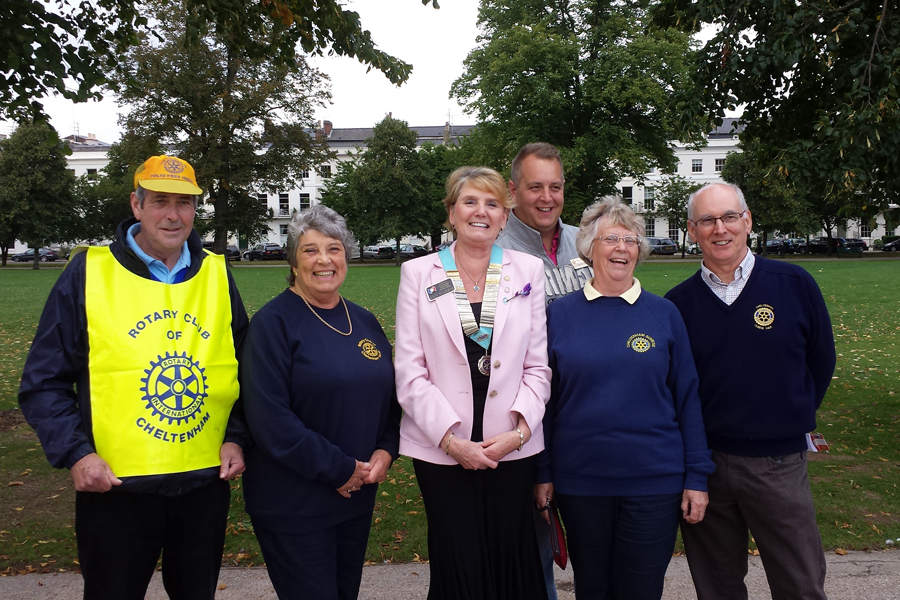 ---
Jan paid a visit to the RC of Swindon Phoenix, and she is shown below presenting to the Club and also with their President Peter Collis.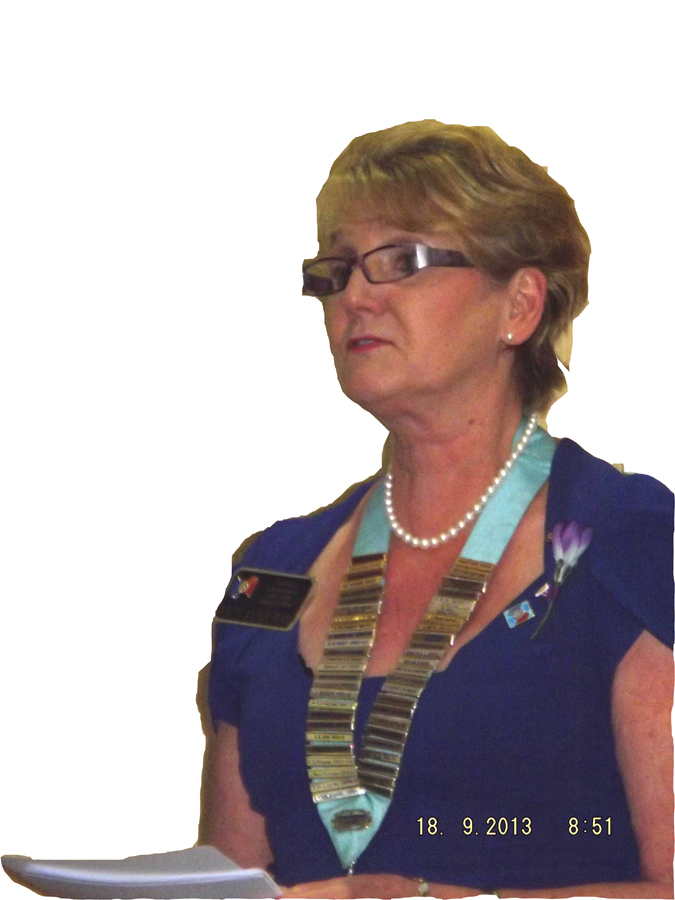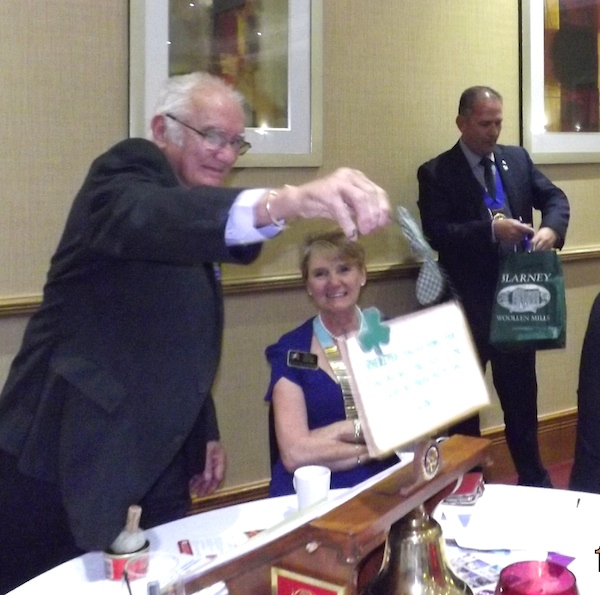 ---
Jan's next Club visited was Cheltenham North, where she had a wonderful time with their President Gill Rouse. They are both pictured below.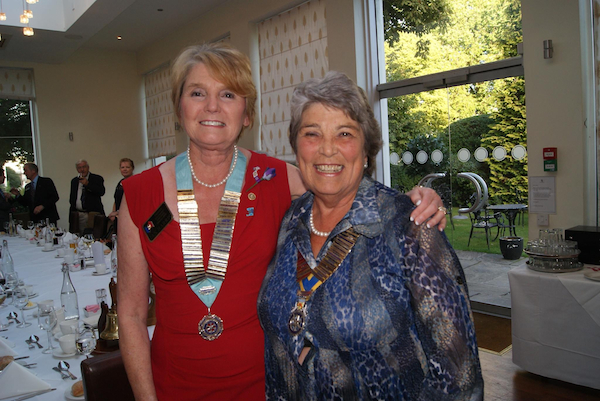 ---
The following day (Wednesday 11th September) Jan was a guest of the RC of Bristol Breakfast at the Lord Mayor's Mansion House. The club were presenting their donations to charities from this year's Dragon Boat Race. Since it started 12 years ago the event has raised £450,000. Well done to David Gammon who has run the event from the start.
At lunchtime Jan met with the Inner Wheel Executive (District 10) and their Chairwoman Sherry Williams, and members of the Rotary D1100 Executive.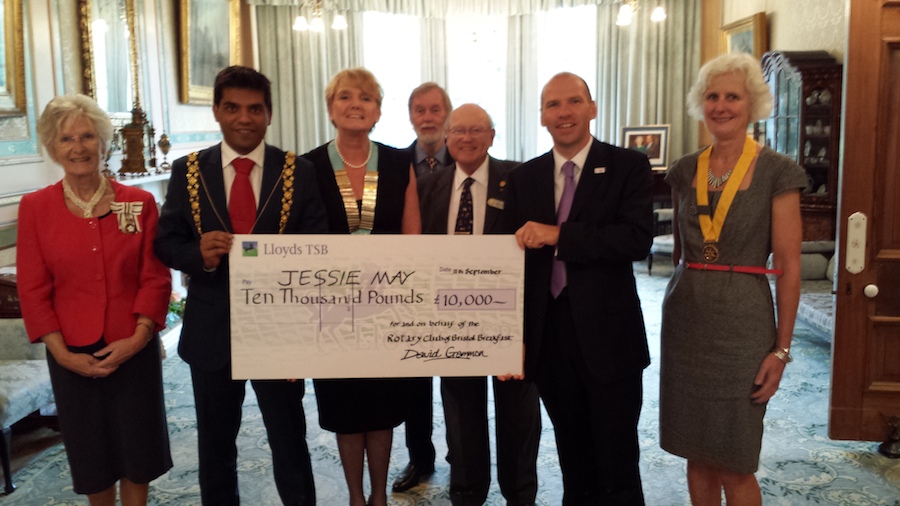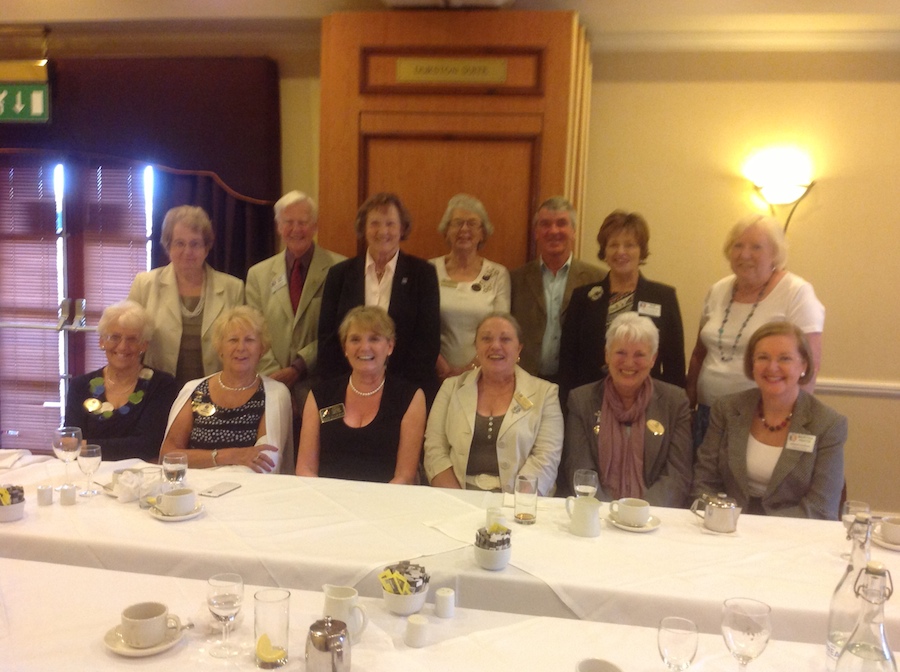 ---
On the 10th September Jan was with her own clob, the RC of Evesham. The club were entertaining visitors from D3040 in India who had entertained members of D1100 in their own homes last year. They gave an interesting presentation about their own District which was enjoyed by all.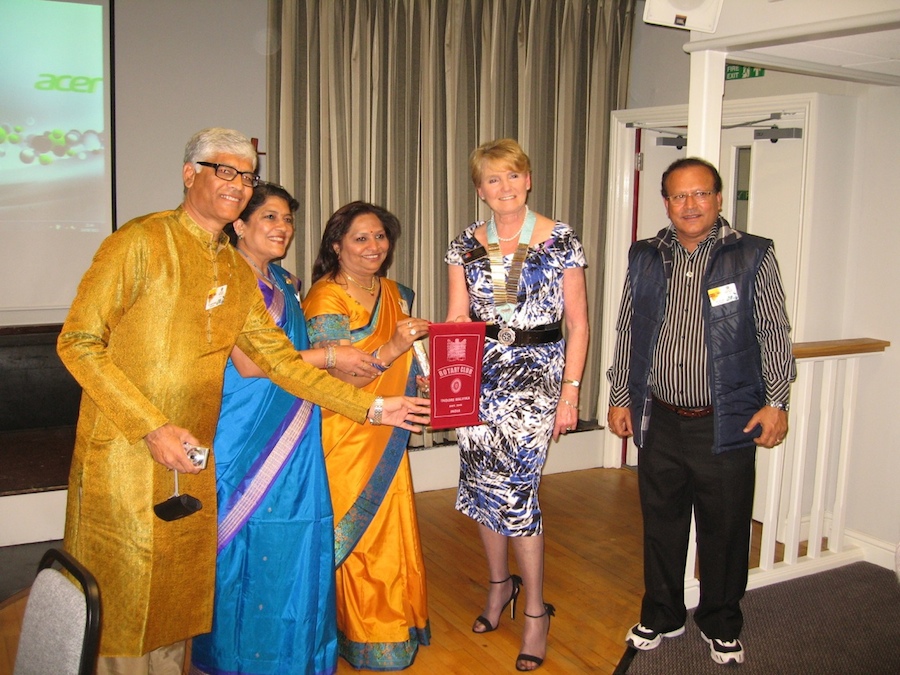 ---
Jan took part in The Rotary Club of Bristol's Big Race for the Future at Durdam Downs on Sunday 8th September. The race raised money for robotic surgery for prostate cancer - hence one of the runners pictured is dressed as a robot! She ran with Martina Peattie, AG for Zone 2 and they are pictured together - before the race! Jan completed the run - Well done Jan! She is proudly wearing her "I did it!" badge in her photo with President Ron Stagg.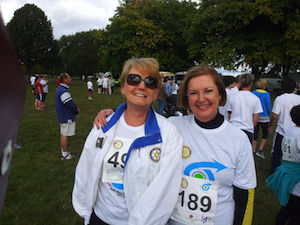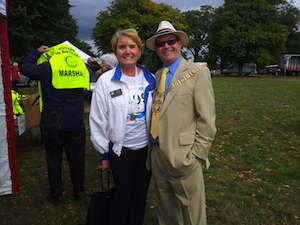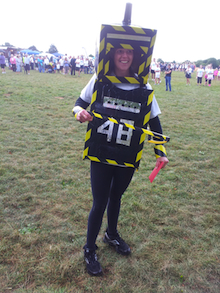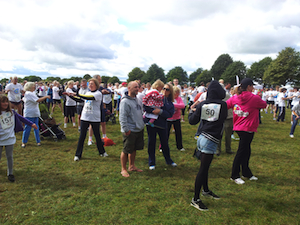 ---
Friday 6th September Jan took part in Question Time. This is an event organised by the Rotary Club of Worcester Severn, and this was the fifth time that they had put this event on. It was in aid of Acorns Children's Hospice and it raised £6000, so congratulations to them on a wonderful effort.
Jan is pictured with Carol Crowe who works for the Hospice.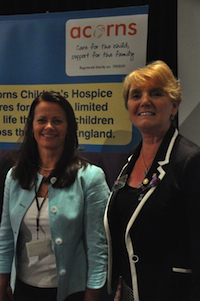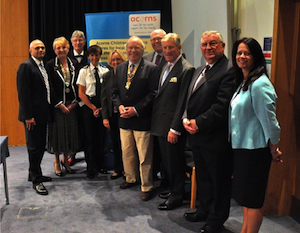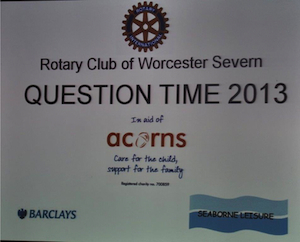 ---
Wednesday 4th September saw Jan in Keynsham. Jan siad that the very long journey there was more than compensated for with a gorgeous pudding! She is pictured here with President Adrian Dodd.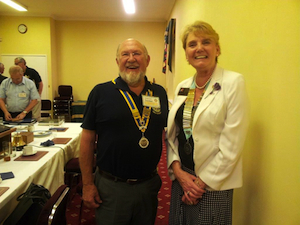 ---
Jan's next visit was to The Rotary Club of Swindown Thamesdown. Jan heard about an enormous project tha the club is planning for 4th July 2014 to celebrate 100 years of Rotary in Britain and Ireland. President Richard Goddard is pictured here with Jan.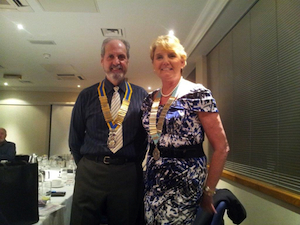 ---
On Monday 2nd September Jan visited the Rotary Club of Royal Wootton Bassett Town. She is photographed here with President Elect Ceri and Staff Sergeant Ian and Major TA who were speaking at the Club. Hands up if you think the fact that Jan visited the club when men in uniform were present was an accident.... No, I didn't think so either.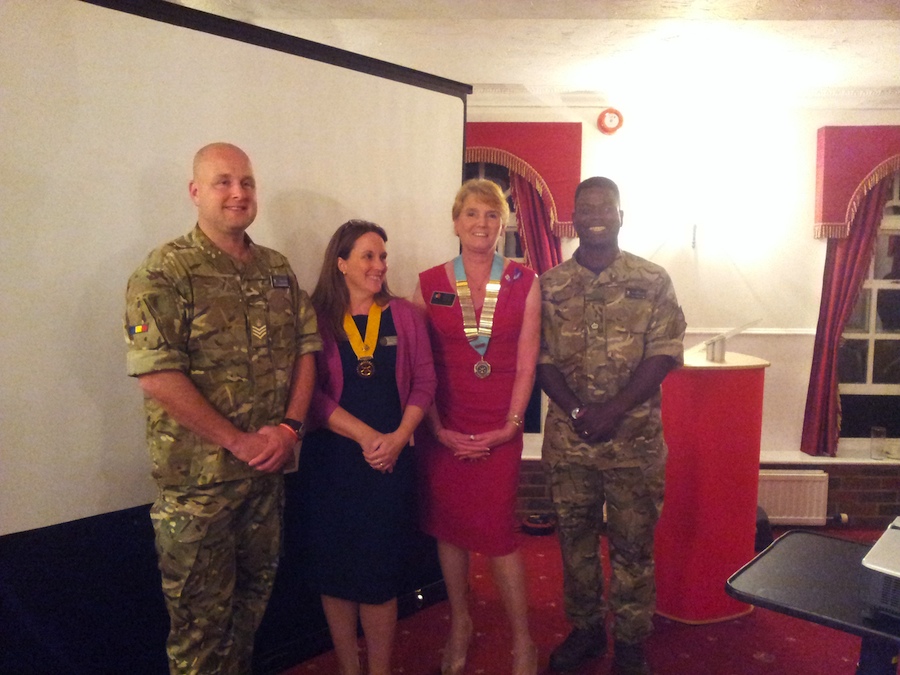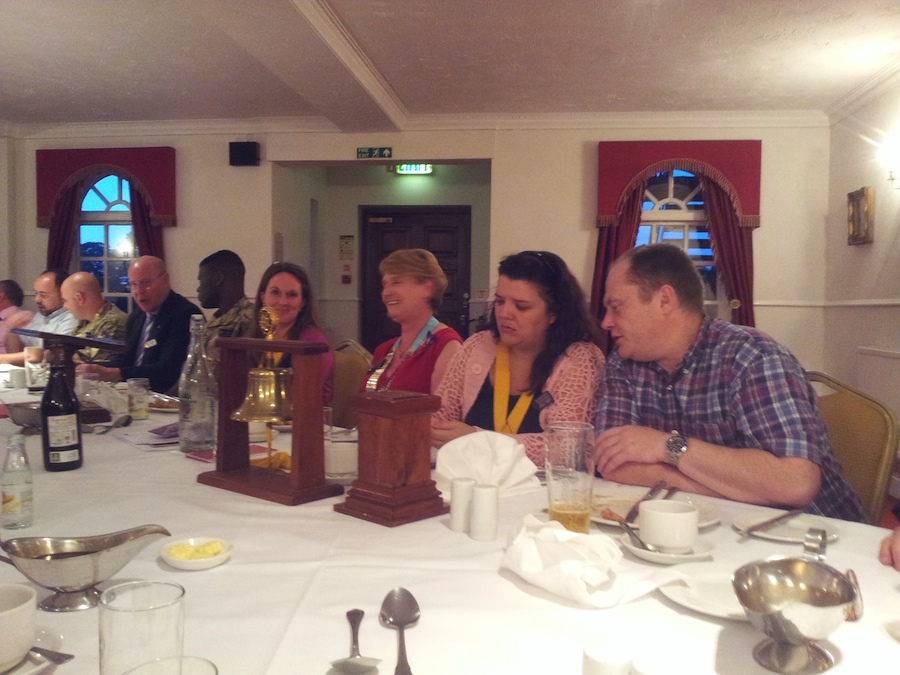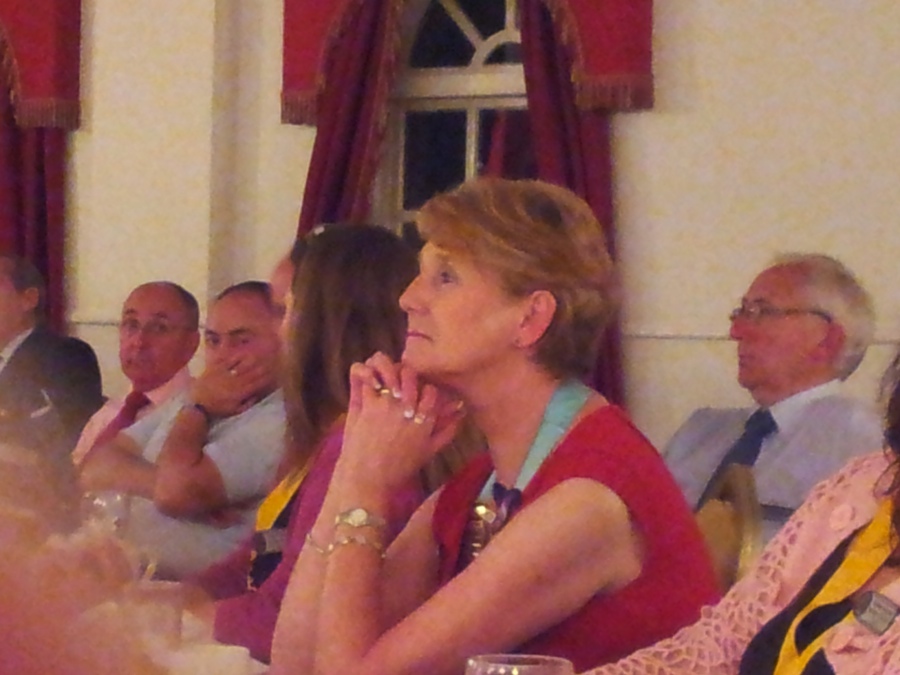 ---
Jan spent the first day of September attending the Charity Raft Race in Monmouth which went down down the River Wye. She is shown with the Mayor of Monmouth and President Jenny Green from the RC of Monmouth, the participants from the RC of Stonehouse, the 'winning' Rotary team from the RC of Hereford Marches (they were second overall), and a random group who believe it or not were about to take part in the race! Jan had a great day!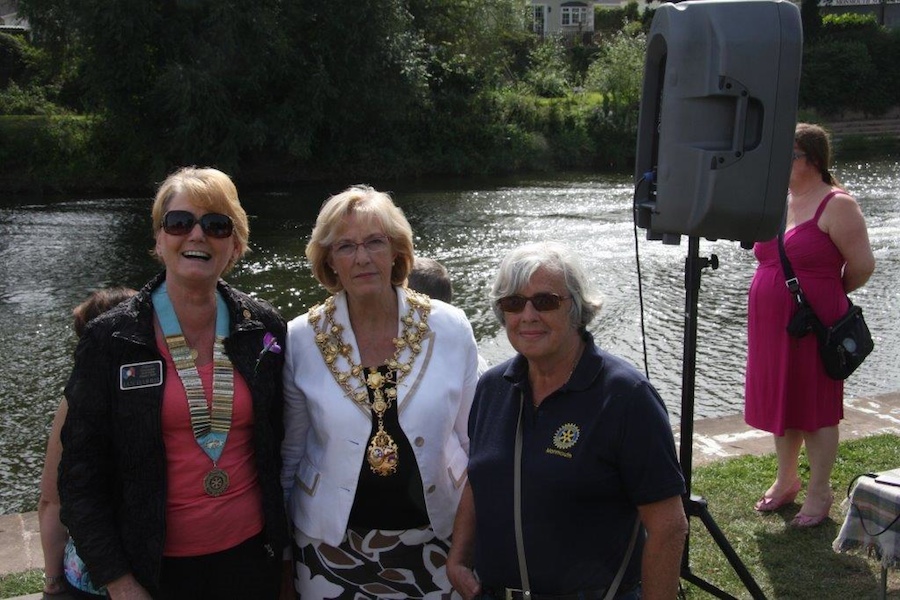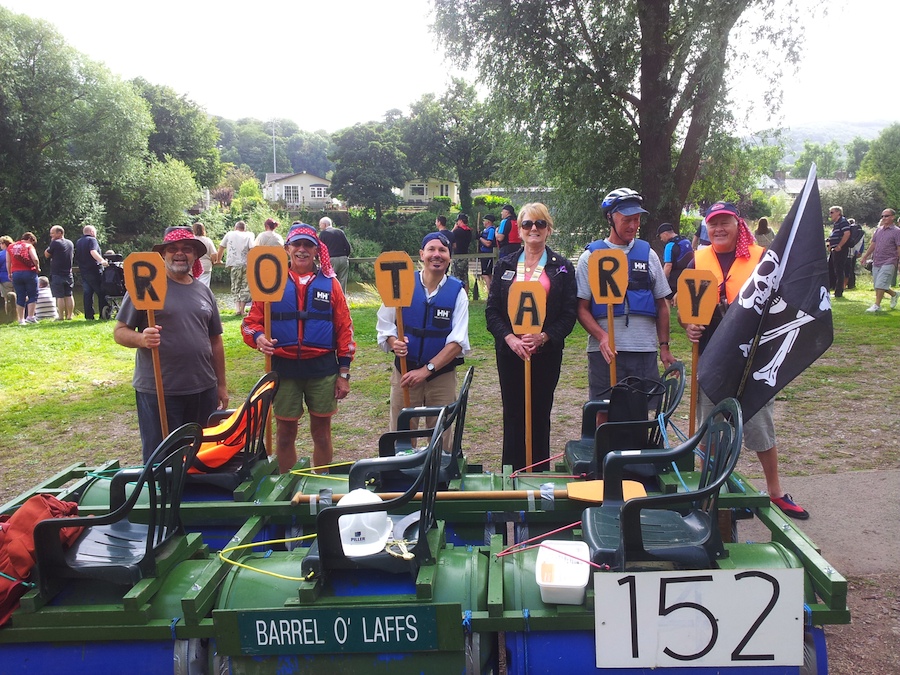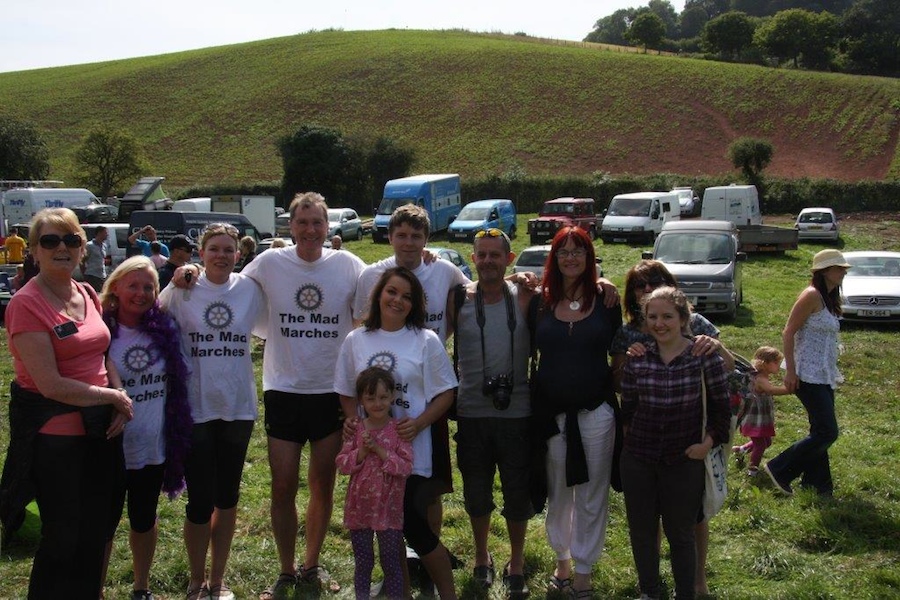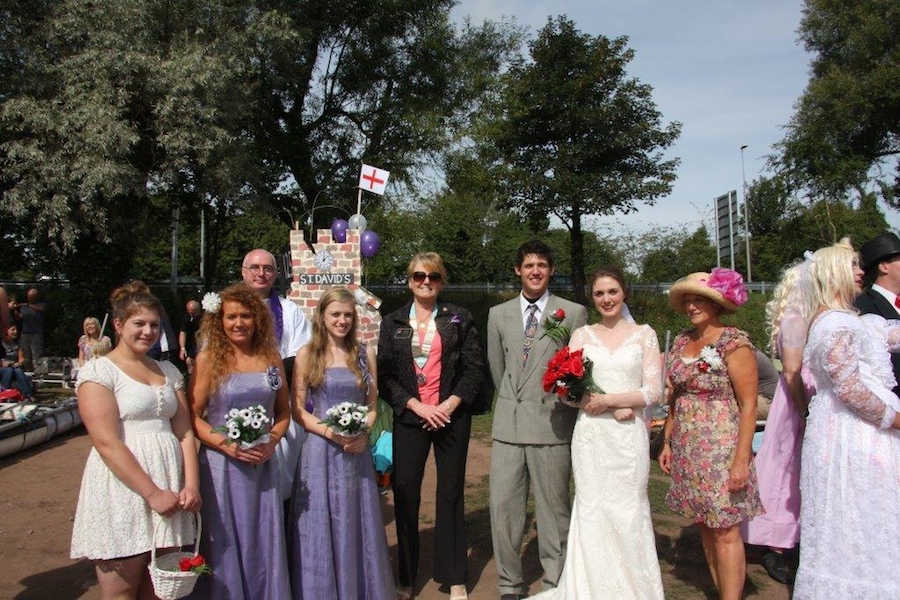 ---
August 28th found Jan at the other end of the District when she visited the Rotary Club of Clevedon Yeo. She is with President Richard Johnson in the photograph.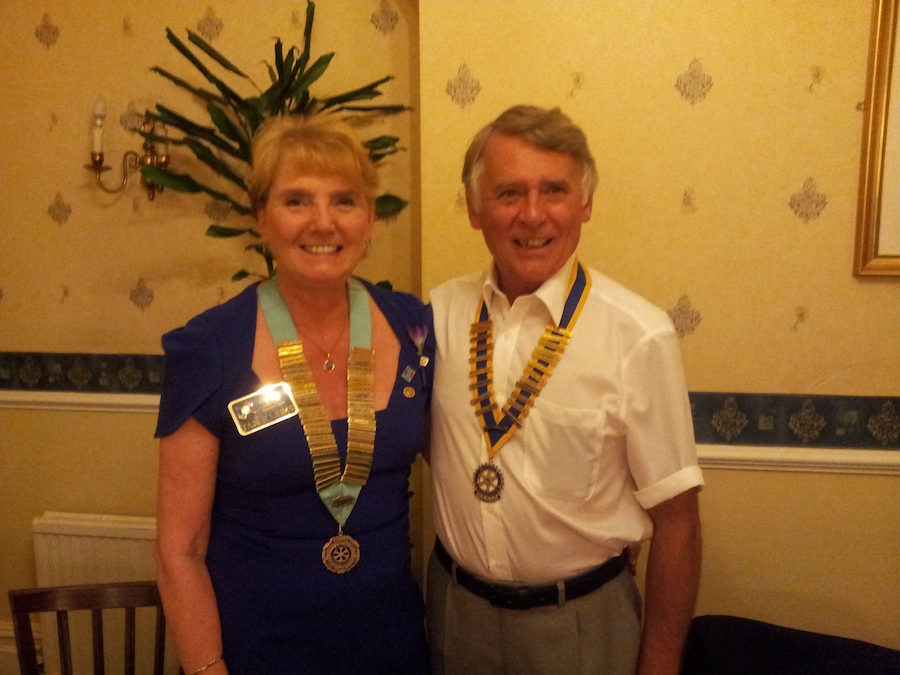 ---
The Rotary Club of Chipping Campden hosted Jan on August 22nd. Jan is pictured here in full flow with President Steve Brown and other club members looking on.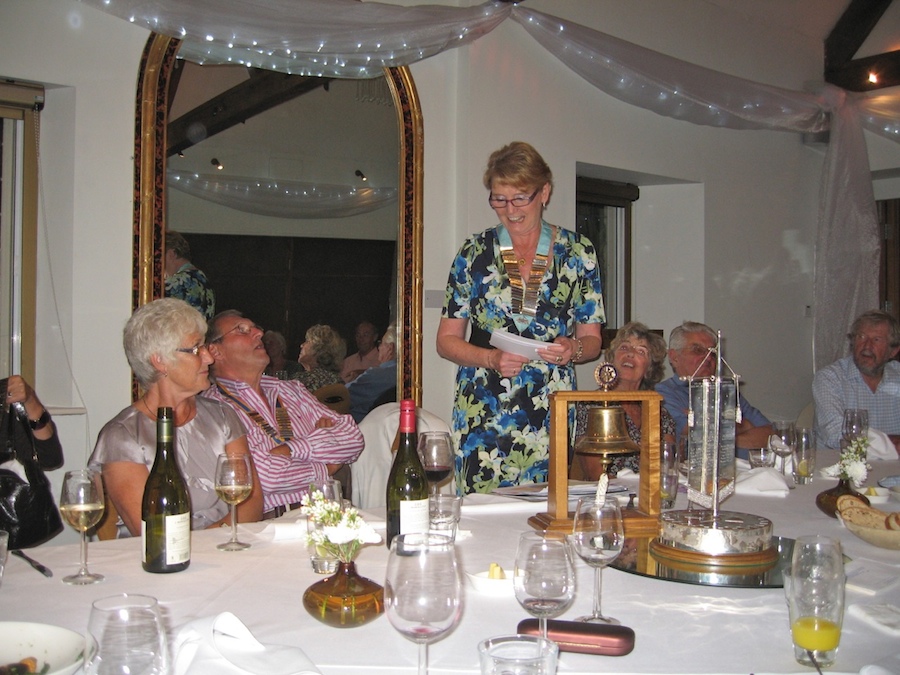 ---
On the 20th August Jan had a very early morning to visit the Cheltenham Sunrise Club. She is pictured here with President Anne Wilson.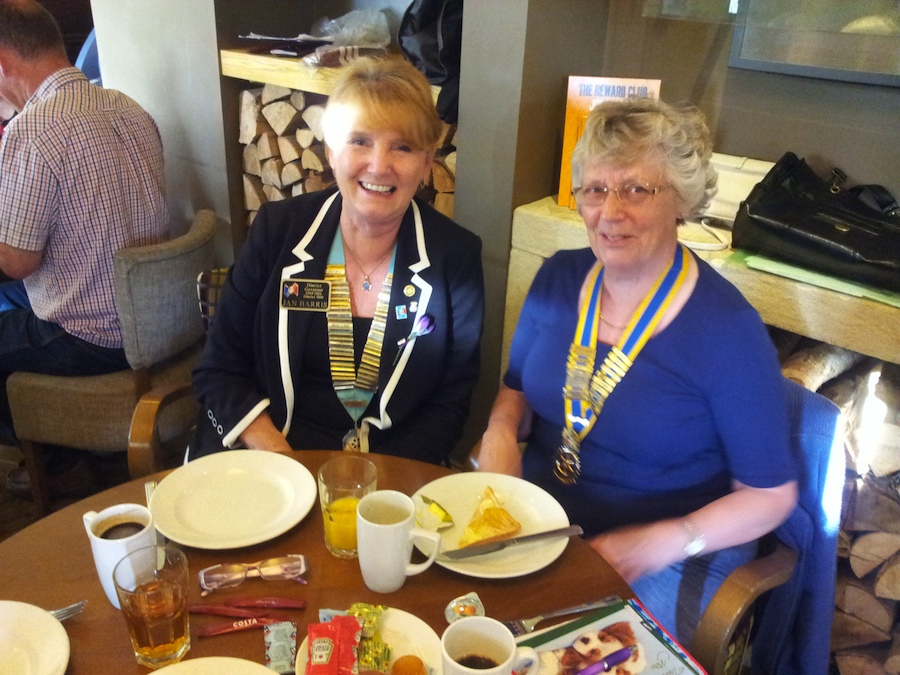 ---
At last year's PETS Jan presented all of the incoming Presidents with sunflower seeds. Theresa Drover President of the RC of Nailsworth is here with her grandson in front of her sunflowers, someone has green fingers! The other photo shows Jan's own flowers. Not bad!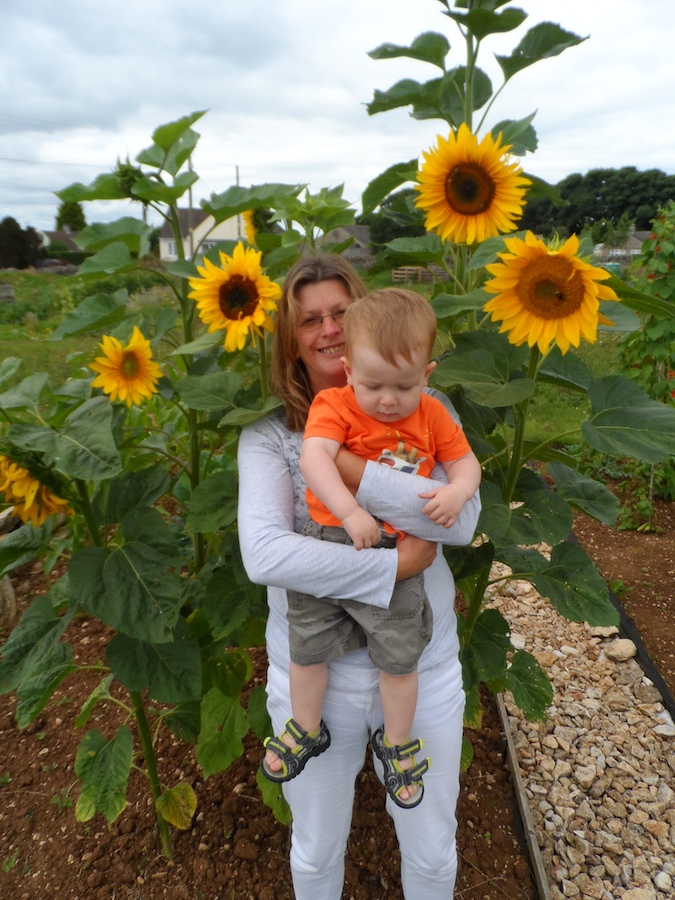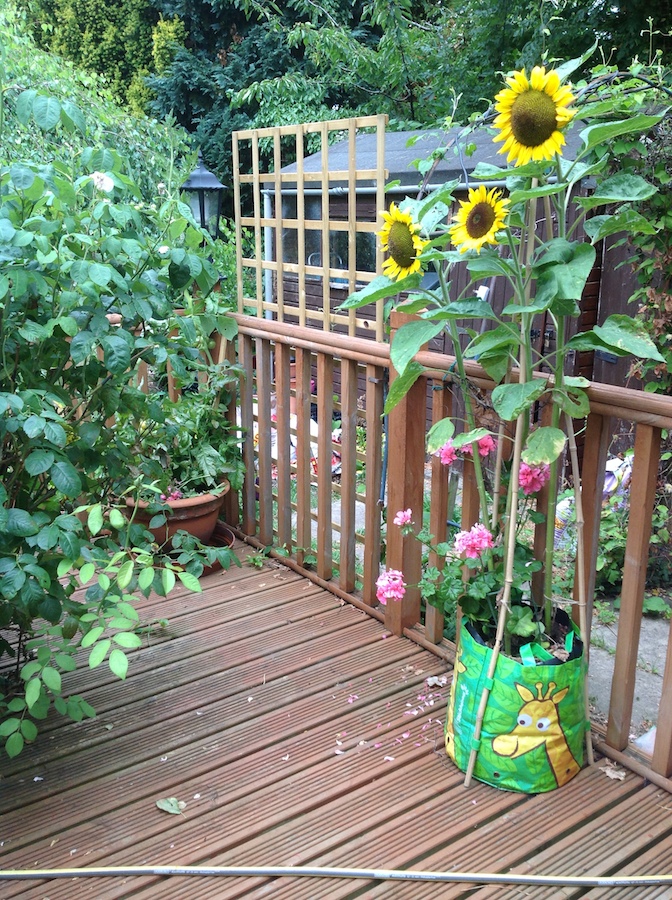 ---
Jan visited two clubs on Monday 19th August, the RC of Hereford City at lunchtime, and then the RC of Ross on Wye in the evening. Jan is pictured here with President Paul Morris from Hereford and Janet Bastock from Ross on Wye.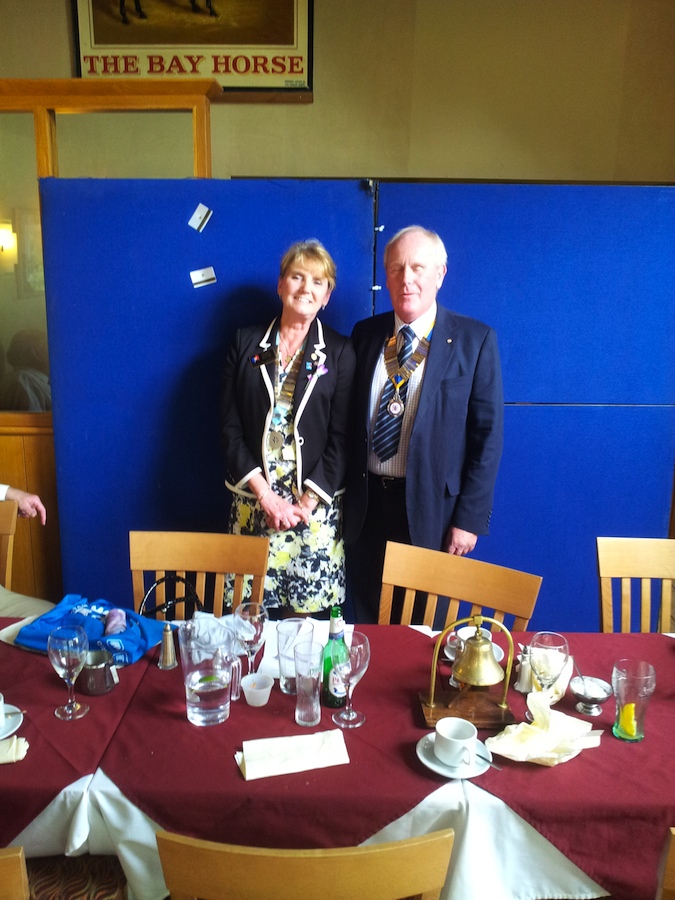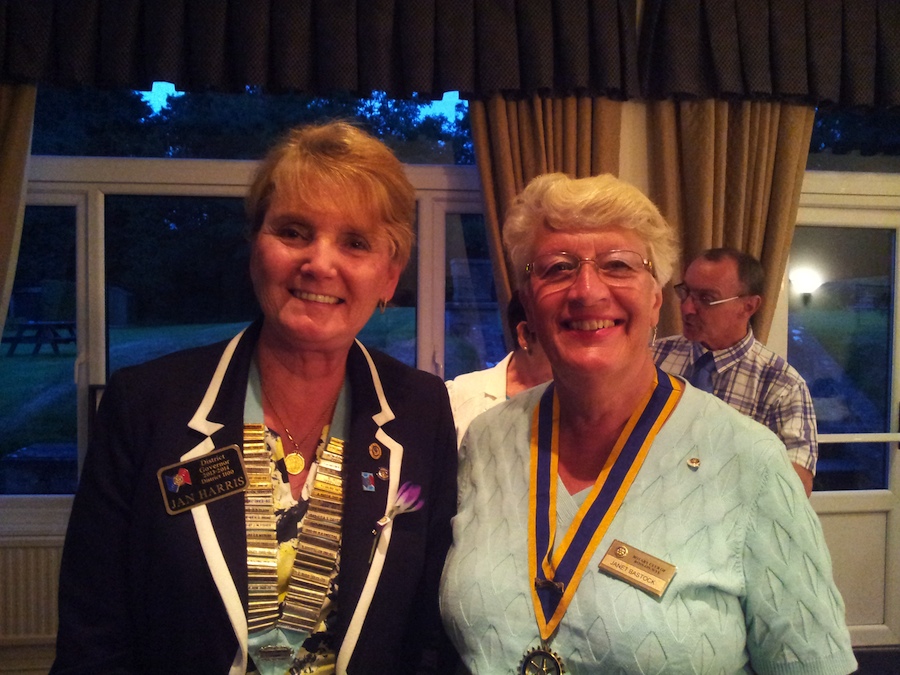 ---
Sunday 18th August found Jan in Chipping Sodbury at their Sportive cycling event. Cyclists rode 30, 60 or 100 miles. A fantastic event. Jan is seen here with President Chris Hill and a couple of the cyclists.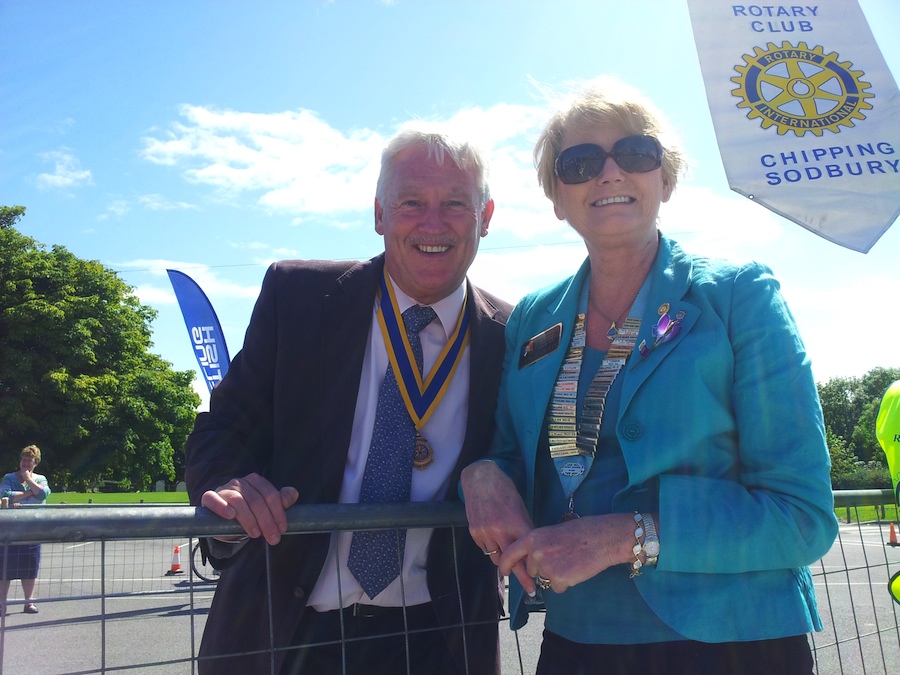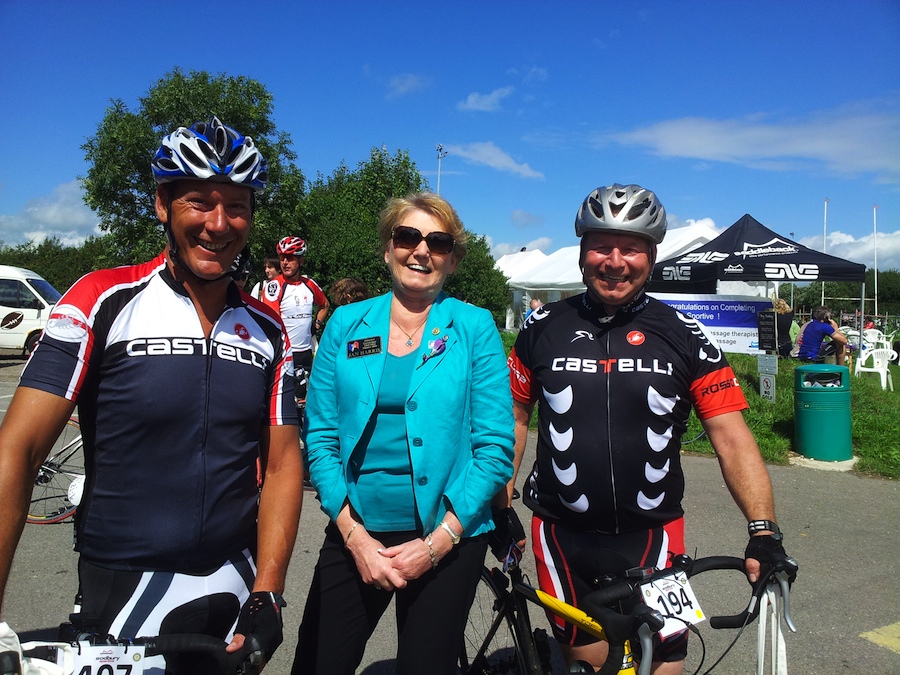 ---
Jan visited the RC of Swindon Old Town on August 14th. Here she is with President Melodie Beavers and newly inducted member Peter Elliot.
---
Jan looks very happy to be at her first General Council meeting at RIBI Headquarters in Alcester!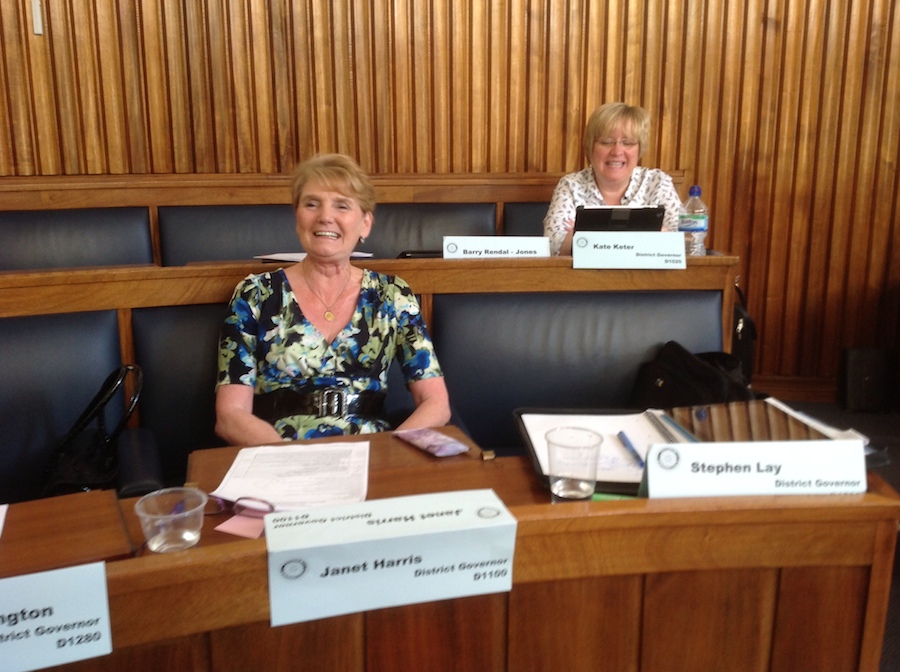 ---
Jan with President Howard Small and President Elect Paul Cowan at the RC of Marlborough and District.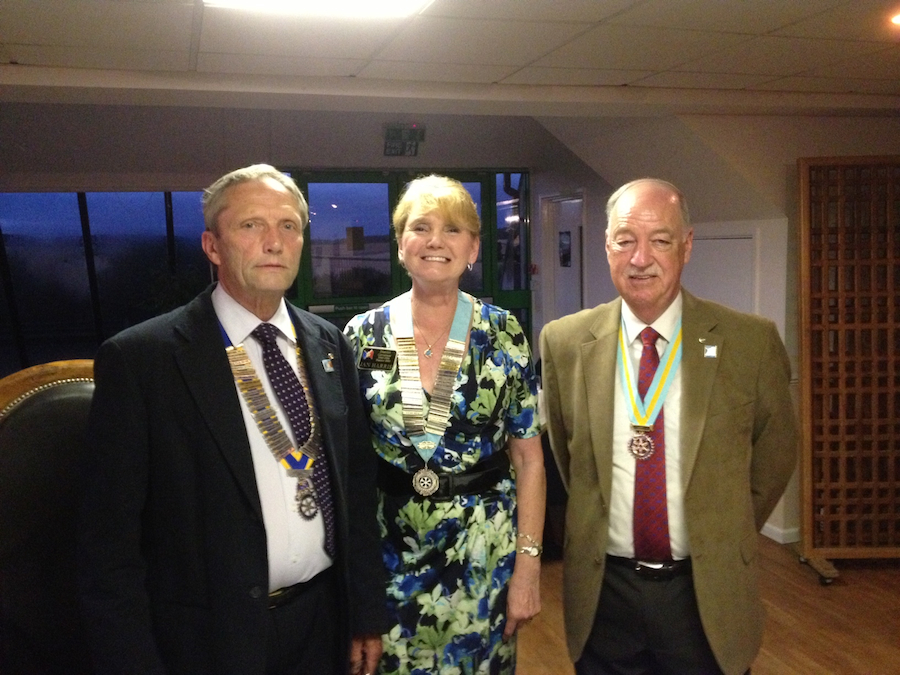 ---
Jan with the two RYLA students from the RC of Evesham, Hammish Massey and Joe Betts at the final pig roast and presentations in the Forest of Dean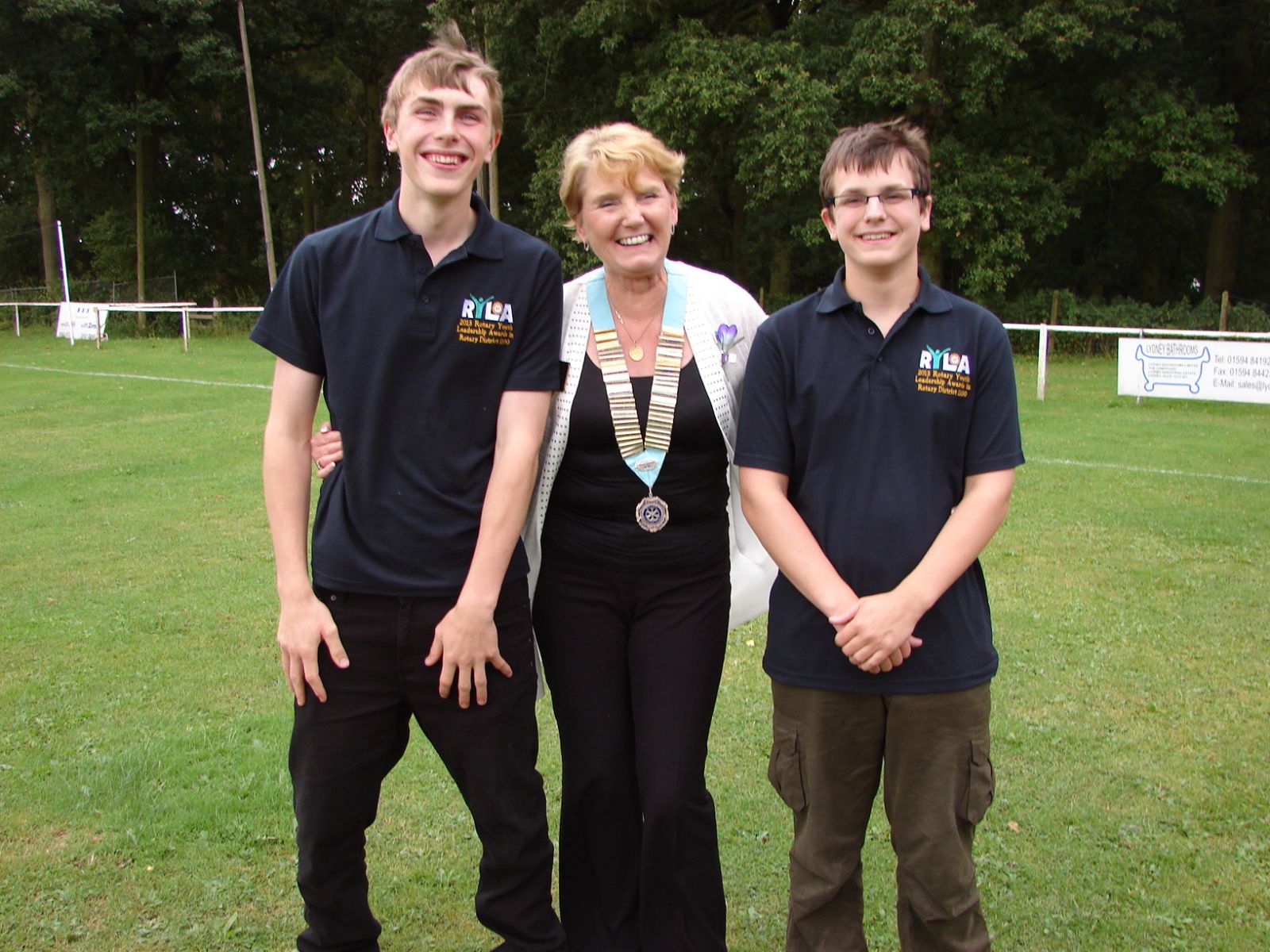 ---
Jan presented medals at the Marlborough & District and Swindon Phoenix Horseless Steeplechase event.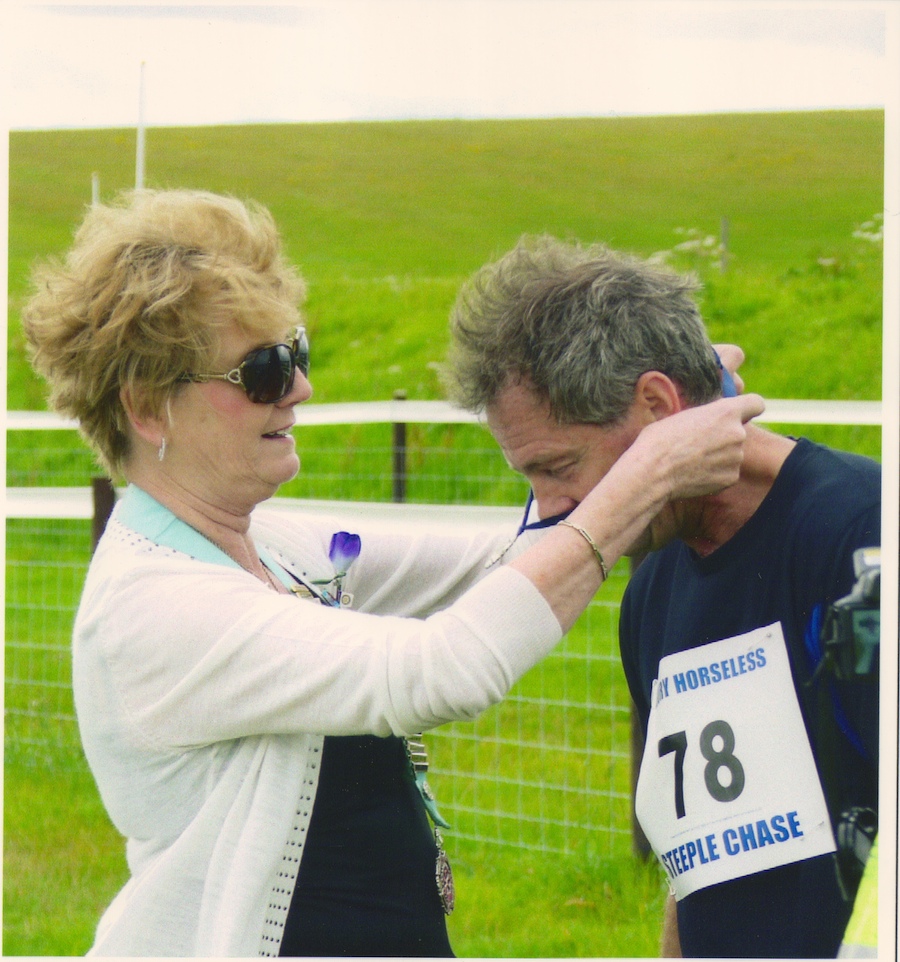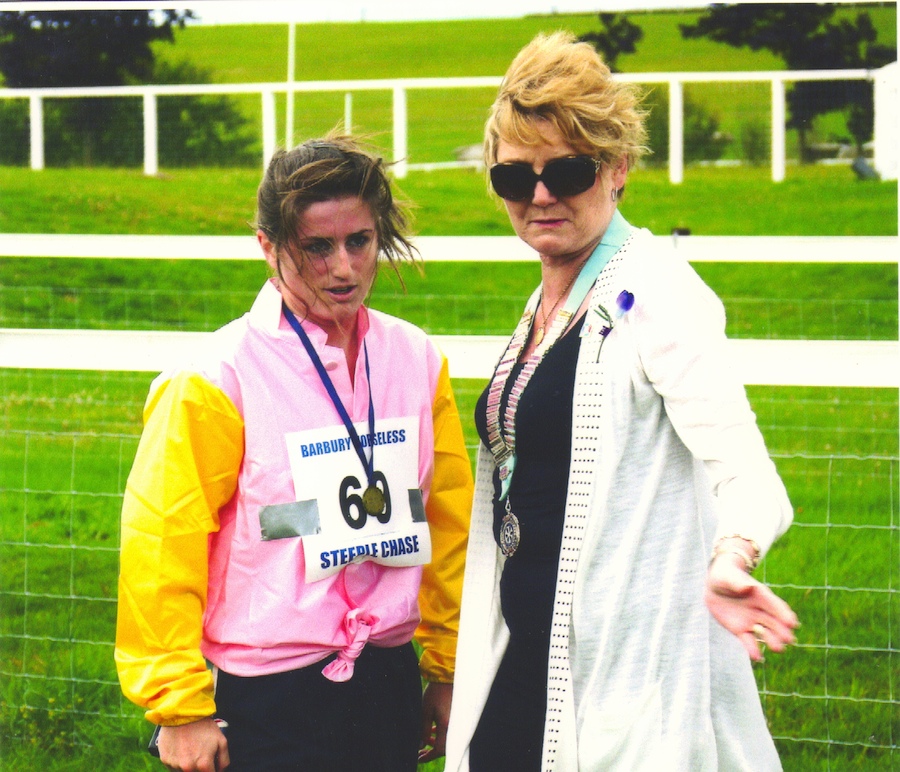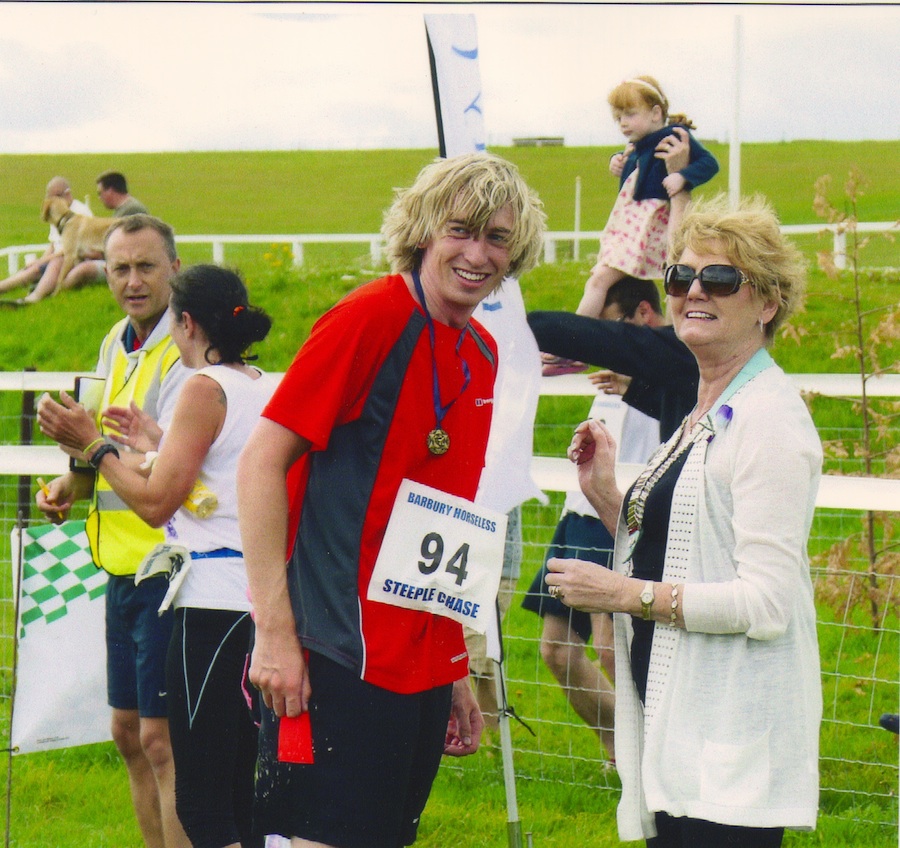 ---
Jan visited the RC of Gloucester Severn at the end of July. here she is with theuir President Marin Odell.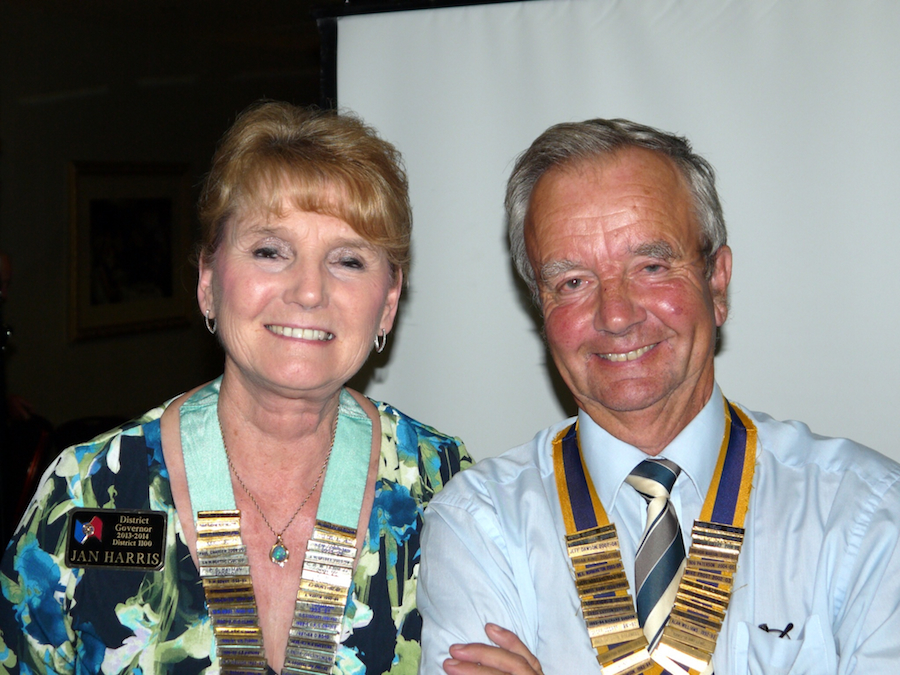 ---
Jan with the outgoing Inner Wheel Chairman Anne Fox and the Association President Gill Rowley at the Inner Wheel Summer Rally on July 10th.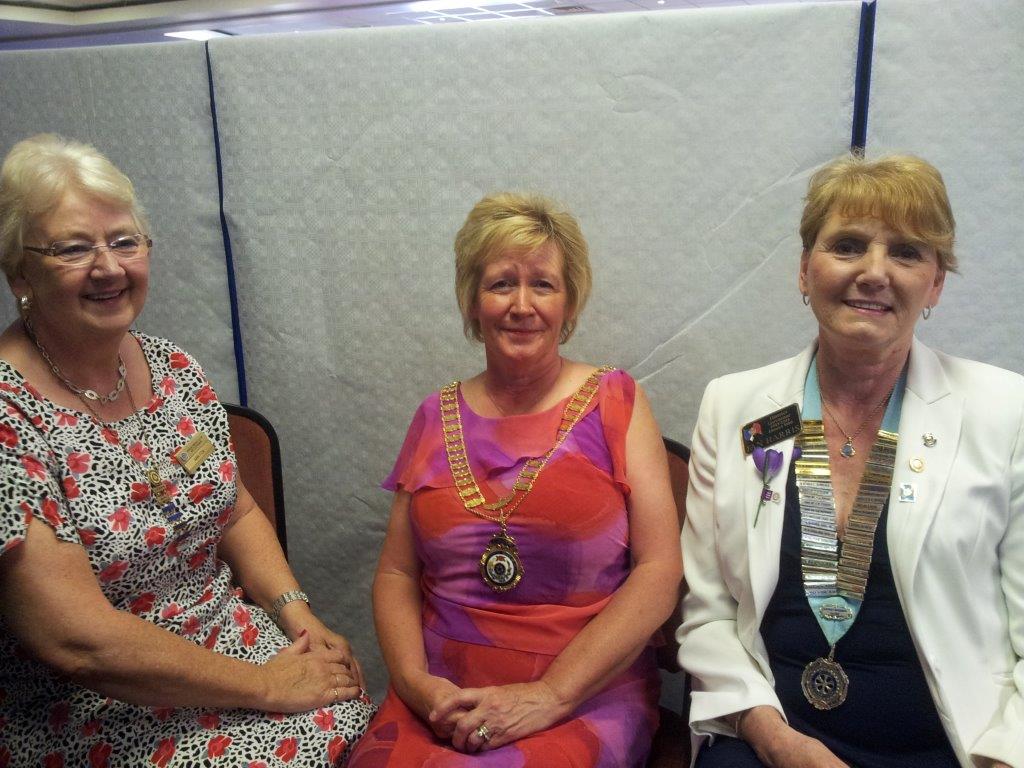 ---
Jan visited the RC of N Cotswold in July. Here she is with President Phil Randall.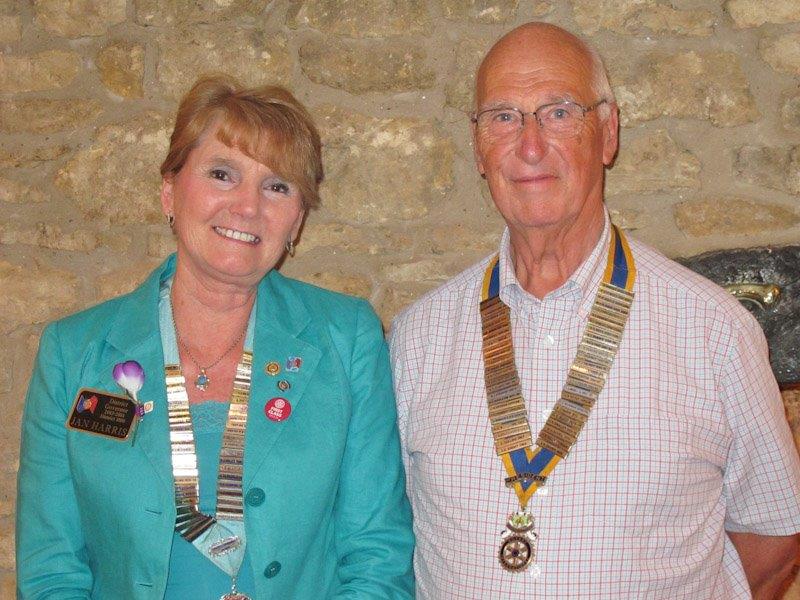 ---
Jan's second visit was to the RC of Ledbury. Here she is with President Stephen Wheeler and their newest member.